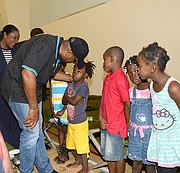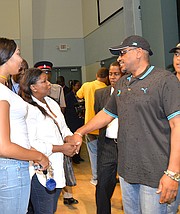 By Ricardo Wells
Tribune Staff Reporter
rwells@tribunemedia.net
PRIME Minister Dr Hubert Minnis today made his final plea to residents across the country ahead of Hurricane Irma, urging people to stay indoors and "heed" all warnings associated with the storm's passage.
During a national address which was broadcast live via local television and radio stations, Dr Minnis again underscored the seriousness of Irma and highlighted the tragedy and destruction left in its wake throughout the Caribbean.
The Killarney MP, in addition to updating the status of residents evacuated from family islands over the past two days, pleaded with those who have opted to stay behind to seek refuge in any safe structures they can find nearby.
Specifically to residents of West End, Grand Bahama - an area prone to severe flooding - Dr Minnis urged them not to delay in moving.
Forecasters initially projected a heavier hit across the cross-section of Grand Bahama, however, newer tracks show that much of Irma's wind and rain will publish the community of West End for an extended period time.
Dr Minnis said he'd been advised the combination of dangerous storm surges and destructive waves, could raise water levels in some areas across the country by as much as 15 to 20 feet above normal tide.
As a result he pleased with residents near coastlines not to risk their safety.
"Please, please move now," Dr Minnis insisted. "Do not try to ride out the hurricane . You may put your life and that of your loved ones at risk."
He added: "West End is under threat of sea surges and flooding that poses a direct threat to life."
The government has overseen the evacuation of 1,609 persons to date - 365 of whom came from Bimini on flights Thursday.