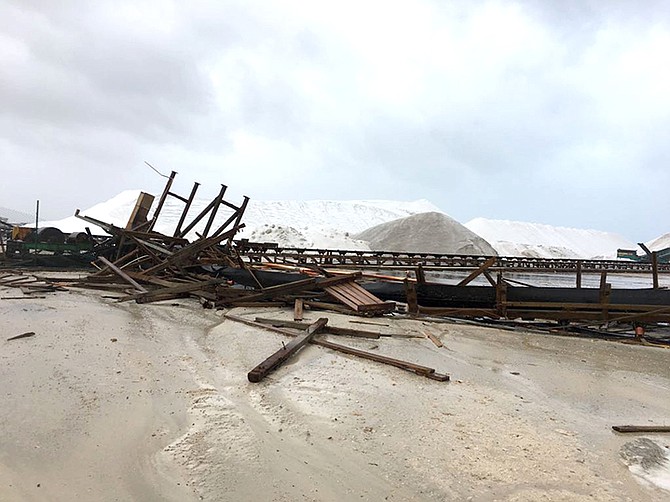 By RICARDO WELLS
Tribune Staff Reporter
rwells@tribunemedia.net
AUTHORITIES on the ground in Inagua are working to determine the extent of hurricane damages sustained at the Morton Salt compound.
Island administrator Julita Ingraham in an interview with The Tribune Friday, said preliminary reports from officials on the ground have suggested varying degrees of damage which will need to be addressed.
In a post circulated via What's App this evening, Marine Superintendent Stevie Fawkes, believed to have been posted in Inagua by the RBDF, claimed: "We have millions in dollars damage to Morton Salt."
The post added: "All of the catwalks from Morton Salt terminal are gone, the maintenance shop is severely damaged, all of our salt production stackers were totally destroyed."
The post also suggested that 70 per cent of the homes in Inagua sustained some degree of roof damage; a claim confirmed by Police Superintendent James Moss, contacted by The Tribune this afternoon.
Supt Moss said based on his initial tour of the island this evening, rooves were lost, none more severe than at the Inagua All-Age School.
He told The Tribune: "Several structures, including the school, have lost sections of their roof. The issue at the school is of major concern. Based on what I could see, the administration block and several of the classrooms have sustained extensive roof damage"
He added: "There is some concerns at other places, mainly Morton Salt, but we are unable to clarify what exactly happened or the extent of it."