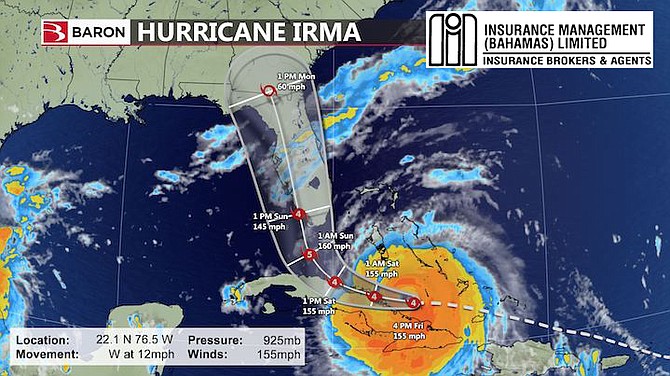 • LIVE COVERAGE OF HURRICANE IRMA CONTINUES HERE
11.00pm UPDATE: The Bahamas Department of Meteorology has issued an "All Clear" for the Southeast Bahamas, including Inagua, Mayaguana, Crooked Island, Acklins, Long Cay and Samana Cay. However, Hurricane Warnings remain in effect for the Northwest and Central Bahamas.
These include Grand Bahama, Abaco, Bimini, The Berry Islands, Andros, New Providence, Eleuthera, Exuma, Long Island, Cat Island, Rum Cay, San Salvador and Ragged Island.
HURRICANE WARNINGS REMAIN IN EFFECT FOR THE NORTHWEST AND CENTRAL BAHAMAS AND RAGGED ISLAND. THIS INCLUDES THE ISLANDS OF GRAND BAHAMA, ABACO, BIMINI, THE BERRY ISLANDS, ANDROS, NEW PROVIDENCE, ELEUTHERA, EXUMA, LONG ISLAND, CAT ISLAND, RUM CAY, SAN SALVADOR, AND RAGGED ISLAND. A HURRICANE WARNING MEANS THAT HURRICANE CONDITIONS ARE AFFECTING OR CAN AFFECT THE AFOREMENTIONED AREAS WITHIN 36 HOURS.
In its Alert #30 on Friday, Sept 8 at 9pm, The Met Department noted that Irma's southwest eye wall moving over the north coast of Cuba. At 8pm, the centre of Hurricane Irma was located near latitude 22.2 degrees north and longitude 77.2 degrees west or 95 miles west of Ragged Island, 123 miles south of the Mars Bay, Andros and 194 miles south of New Providence. Irma is moving toward the west at about 12 mph and a turn toward the northwest is expected by late Saturday.
On the forecast track, the eye of Irma should continue to move near the north coast of Cuba and the Central Bahamas tonight and Saturday, and be near the Florida Keys and the southern Florida peninsula Sunday morning. Maximum sustained winds are near 155-miles per hour with higher gusts. Irma is a category four hurricane on the Saffir-Simpson hurricane wind scale.
Some fluctuations in intensity are likely to continue during the next day or two, but Irma is expected to remain a powerful hurricane as it approaches Florida. Hurricane force winds extend outward up to 70 miles from the centre and tropical storm force winds extend outward up to 185 miles from the centre.
Tropical storm winds are now occurring over Long Island, Exuma, Cat Island, Rum Cay and South Andros. Tropical storm force winds are forecast to be discontinued over Ragged Island, Cat Island and Rum Cay by 11pm tonight and over Exuma by 4am Saturday. Tropical storm force winds are forecast to begin in New Providence and North Andros by midnight tonight. Extensive to severe flooding can be expected as Irma is forecast to produce rainfall amounts of 8 to 12 inches.
The combination of dangerous storm surge and large destructive waves can raise water levels by as much as 15 to 20 feet above the normal tide near the eye of Hurricane Irma. Residents living near the coast are asked to move to higher ground inland. Small craft operators throughout the Bahamas and the Turks and Caicos islands should remain in safe harbour.
7.50pm UPDATE: At 7pm US-based weather service Baron indicated with the exception of Bimini the remaining Bahamas would escape any serious effects from Irma.
Meteorologist Kevin Nugget told the Tribune: "The system is moving west away from the Bahamas this evening and will continue on this track for the next 18 hours before curving northwest and then northward Saturday afternoon through Sunday morning.
"The tracks all take the storm up the western side of Florida on Sunday.
"Weather conditions across the Southeast Bahamas are expected to improve overnight as the Hurricane moves away.
"The only island group that will still experience Hurricane conditions along with a significant surge will be Bimini on Sunday.
"Grand Bahama will likely experience tropical storm force conditions with an occasional gust to hurricane force (75mph) along with a surge especially on the west sections of the island on Sunday."
7.00pm UPDATE: A new map from Baron Weather (main image) has been released, as well as a GOES-16 satellite image of the storm and spaghetti models of the Hurricane Irma.
6.00pm UPDATE: LONG Island fared well too, MP Adrian Gibson said as police and defence force officers begin assessing damage on the island.
"NEMA has not issued the all clear for Long Island but there's a sense they will do so in the morning," he told The Tribune 5.45pm Friday.
"Shelters will remain open until the all clear is given. But right now I can say there's no major structural damage. Residents have had minor roof damages, that is shingles coming off but no reports of major damage. Having said that, assessments are ongoing and as we speak police and Defence Force officers are on the roads moving branches to make sure the roads are passable."
Long Island lost electricity around 5am Friday, Mr Gibson said. However, telecommunication services are still up.
"Compared with our Caribbean brothers and sisters, while we had strong winds and gusts and lots of heavy rain, we have not experienced the same level of damage," he said.
"We feel blessed. Currently I can say there are no reports of injuries. As it stands now, the airports are without flooding. Usually the runway in Deadman's Cay floods. Today it's dry. Obviously given the wind factor some utility lines are down. We've tied them with fluorescent caution tapes."
Long Island, especially the southern part of the island, was devastated by Hurricane Joaquin in 2015.
"There is no comparison between Hurricane Joaquin and Irma," said Mr Gibson.
5.35pm UPDATE: CROOKED Island easily weathered Hurricane Irma, resident David Daxon said.
"There wasn't much damage," he told The Tribune 5.30pm Friday. "People have lost shingles off their roof but no major structural damages and no injuries to persons."
Mr Daxon, works at Bahamas Power and Light (BPL), said electricity is off on the island and a BPL team is currently doing damage assessments.
"Everything is normal," he said. "This was nothing compared with Hurricane Joaquin. Once you've experienced Joauqin I don't know if it could get any worse."
Mr Daxon chose not to evacuate the island. Although he was in New Providence earlier this week, he returned to his home to properly secure it. BTC communications are still up on the island, he said.
5.30pm UPDATE: AUTHORITIES on the ground in Inagua are working to determine the extent of hurricane damages sustained at the Morton Salt compound - FULL STORY HERE
5.10pm UPDATE: We're getting unconfirmed reports of "millions of dollars of damage" to the Morton Salt facility in Inagua. As soon as we get more details it will be posted here.
4.50pm UPDATE: From Doctors Hospital and Bahamas Medical Center: Bahamas Medical Center is now closed until further notice. In the event of an emergency, please call Doctors Hospital at 302-4600. Doctors Hospital suspended Visiting Hours at 3pm and will close to all except EMERGENCY cases at 5pm. The Doctors Hospital Command Center number is 603-4801. All other calls should be directed to our mainline - 302-6400
4.00pm UPDATE: Video from Inagua today:
http://youtu.be/CawPK4a6yFA
2.20pm UPDATE: Bahamas Power and Light has issued an update on the situation in the south islands - full story HERE
2.00pm UPDATE: PRIME Minister Dr Hubert Minnis today made his final plea to residents across the country ahead of Hurricane Irma, urging people to stay indoors and "heed" all warnings associated with the storm's passage. During a national address which was broadcast live via local television and radio stations, Dr Minnis again underscored the seriousness of Irma and highlighted the tragedy and destruction left in its wake throughout the Caribbean. - FULL STORY HERE
1.50pm UPDATE: Long Island MP Adrian Gibson has given this update: Long Island is currently experiencing heavy rains and winds. The following reflects the numbers of persons who sought refuge in hurricane shelters as at 11.50 a.m.: Seymours Gospel Chapel, 23; Salem Baptist Church, no persons; St. John's Anglican Church, 5; Holy Cross Anglican Church, 8; Community Center, 67; Holy Family Mortimers, 16; Assemblies of God, 33; St. Athanasius, 15; Highway Church of God, 14. Numbers have been slightly increasing throughout the day. Three Royal Bahamas Defence Force officers have also been assigned to the district and are lending support and assistance.
1.40pm UDPATE: A video of storm conditions in Cabbage Hill, Crooked Island from this morning:
http://youtu.be/gB5fH3DjW6g
1.25pm UPDATE: Flamingos on Acklins have 'made it through alright':
http://youtu.be/CX2QiiGFm6Q
12.50pm UPDATE: THE majority of the Bahamas will be spared the brunt of Hurricane Irma, according to local Meteorologist Ian McKenzie who said the category storm 4 storm has shifted slightly to the west moving the deadly hurricane away from the Northwest and Central Bahamas - full story HERE
12.35pm UPDATE: Kevin Nugent, meteorologist with the US-based Baron Weather service told the Tribune at noon today:
"The eye of Hurricane Irma is set to pass over the Ragged Islands and Duncan Town over the next one to two hours. The northern core of the storm is currently affecting Crooked/Acklins Islands, Long Island and the southern part of the Exumas and Hurricane Irma is moving westward.
"The models have continued to trend westward overnight and this morning and now have the center of the storm moving up the central/west Florida Peninsula.
"Hurricane conditions can be expected in the islands being affected currently and then the southern parts of Andros island tonight and on Saturday. We are still expecting hurricane conditions with a good storm surge on Bimini on Saturday night and Sunday. With this westward shift, Grand Bahama will likely experience tropical storm force conditions with occasional gusts to hurricane force along with a surge especially on the west sections of the island Sunday
"New Providence and areas to the north/east will only experience high end tropical storm conditions with this storm."
"Irma is making the turn to the right due to a retreating ridge in the Atlantic and a deepening trough in the Northeastern US.
"Our model has been quite accurate the past two days in bringing the Hurricane toward the north coast of Cuba and then into Florida."
12.35pm UPDATE: ALL is well so far in southern islands hit by Hurricane Irma, MICAL MP Miriam Emmanuel said Friday morning.
She was speaking at the New Providence Community Centre where Prime Minister Dr Hubert Minnis and a government delegation toured the shelter which is housing evacuees from the southern islands.
Ms Emmanuel has maintained contact with some officials on those islands via satellite phone.
"Salina Point is experiencing some of the wind, some of the rain and flooding already but from Inagua, Crooked Island, Acklins are still reporting that all is well so far," she said.
"I'm pleased that this is happening. I'm in communication with all of them and they told me right now all is fairly well and everything is going good."
According to the Met Department, Inagua, Acklins, Crooked Island and the southern portion of Long Island have been impacted by the hurricane so far.
Meanwhile, evacuees are enjoying the accommodations provided for them at the center.
"Some of us are living better here than we're living in Acklins," said 60-year-old farmer Don Cunningham, echoing a sentiment others also expressed. "We are living in Acklins hard. Coming here is a blessing from God."
Pamela Martin, who has six children, agreed. "Where we are we have no fan, no current, no light, no water like that," she said.
"I'm a really hard struggling mother so I'm really enjoying this to the fullest."
12.30pm UPDATE: Bahamas Department of Meteorology said the movement of Hurricane Irma would take the eye of the storm over or near Ragged Island around noon today.
Maximum sustained winds are expected to be near 150 mph with gusts even higher. Hurricane force winds extend out from the eye of the storm for upto 70 miles and beyond this tropical storms winds can be expected upto 185 miles from the centre.
This morning hurricane conditions were occurring over Acklins, Crooked Island and Ragged Island while tropical storm conditions existed over Inagua, Mayaguana, Long Island, Exuma, Rumcay and San Salvador.
Tropical storm conditions will spread to Eleuthera, Andros and New Providence late this afternoon into early evening.
Extensive to severe flooding can be expected in many areas as Irma is forecast to produce between eight and 12 inches of rain.
By KHRISNA RUSSELL
Deputy Chief Reporter
krussell@tribunemedia.net
NATIONAL Emergency Management Agency Director Captain Stephen Russell said Thursday "we can't take any chances" with Hurricane Irma, which officials say has reached 500 miles in diameter and remains a vicious category five storm.
Although the southern islands - Mayaguana, Inagua, Crooked Island, Acklins, Long Cay and Ragged Island - are expected to experience the full brunt of Irma, New Providence is expected to only receive tropical storm force winds as the hurricane makes its way to the United States.
Grand Bahama, Bimini – which saw about 300 people evacuated Thursday - and Andros are expected to be severely affected.
The entire country is under a hurricane warning.
Captain Russell told the media on Thursday during a press briefing: "We can't take any chances with it. It can cause catastrophic results.
"We have to brace ourselves."
Due to the magnitude of Irma, the government commenced voluntary evacuations from MICAL and Ragged Island Wednesday.
A total of 1,223 persons came into to New Providence on 15 flights. While three hurricane shelters were earmarked for these residents, Captain Russell said only 10 per cent of them needed to use these facilities.
On Thursday an additional 21 people from Mathew Town, Inagua and about 300 others from Bimini requested evacuation. A total of eight planes – two to Inagua and six to Bimini – were sent for the evacuations.
Capt Russell told The Tribune officials were working with a small window of opportunity causing a limit on the number of aircraft that could be sent Bimini.
Capt Russell said many of those evacuated from Bimini - seniors, disabled, women and children - were expected to be housed at the Sir Kendal G L Isaacs Gymnasium; but that decision was placed on hold after the majority of the evacuees were able to take up residency with family and friends in New Providence.
"Flights are ongoing as we speak and the plan, as I mentioned throughout the week, is to get as many persons out of areas we believe would be hardest hit by the storm," Capt Russell told The Tribune a few hours after holding a press conference at NEMA.
"Our actions have been built around following the path of the storm and making the best in-time decisions that could aid us in the moment of this storm," he added.
However, there are some who opted to remain at home in the southern islands to ride out the storm. Officials said there were about 180 in Inagua, around 70 in Mayaguana and 100 in Acklins.
"We are going to activate all of our shelters in those districts by noon today (Thursday) and (for) all those persons who remain in Long Island to activate by noon," Capt Russell said during his press conference.
"So we are asking all shelter managers to report by noon. In cases where administrators have left the islands, we are asking you to liaise with the Royal Bahamas Defence Force.
"It's a scary scene to a certain extent. I am hearing where in Inagua the power company has shut down and the team has left. The doctor and the nurse has left and the island administrator has left.
"We have some teams of officers that are a part of our advance teams so these are persons along with police officers who would remain in those areas.
"Another concern is the persons in Acklins and Crooked Island we know those are long districts and people scattered throughout the district so we are asking persons who remain to try and get in a central location or know the contacts of persons who remain because things can get pretty bad when it gets dark."
He urged persons not to remain by themselves. If they do he said to stay with someone and establish a buddy system.
Captain Russell warned the Bahamas may not get the all clear until Tuesday evening, adding help for those still in the affected Family Islands could be delayed as New Providence and Grand Bahama will be among the last to experience Hurricane Irma.
Regarding the return home for those evacuated, Captain Russell said this will depend on how soon officials can get into the affected islands to make rapid assessments. However, he added ultimately the decision will rest on whether anything is left standing and intact after Irma passes.