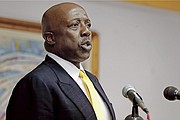 By NICO SCAVELLA
Tribune Staff Reporter
nscavella@tribunemedia.net
ATTORNEYS for former Cabinet minister Shane Gibson are seeking to add several persons to their client's application for constitutional relief on the basis that a magistrate's lack of jurisdiction to grant bail according to the Bail Act is unconstitutional.
Should the application prove successful, Wayne Munroe QC said it could result in a "substantial liability of the state" that could potentially cause the government to pay "millions of dollars" in damages to those persons affected.
Mr Munroe, appearaing before Justice Cheryl Grant-Thompson during a mention hearing in connection with Gibson's 36 bribery and extortion related charges, told the court of his intention to add "at least" four persons to Gibson's initial notice of motion for constitutional relief.
Those persons, Mr Munroe said, would have been remanded for different periods of time and would not have had the luxury of having such an application filed on their behalf like Gibson, who was granted $40,000 bail by Justice Grant-Thompson in August.
Gibson was not present during yesterday's hearing.
When asked to justify his belief that the government may have to give out "millions of dollars," Mr Munroe said after the hearing: "From as far back as I think when I acted as a judge in 2012, in the short two and a half months that I sat as a judge, I must have had at least 50 to 100 people come before me with the no objection to bail.
"The persons (were) only remanded because of the Bail Act. And so if you think that you have ten courts sitting and on average you have 100 people that's a whole lot of people who were remanded for short periods of time - a week, two weeks, three weeks for no good reason.
"We're not talking about the people who the Crown objected to bail for, we're talking about the people who there was never any objection to them getting bail."
The matter was ultimately adjourned to October 12 at 9.30am. However, on September 26, Mr Munroe will add the various persons to the notice of motion for constitutional relief. The Crown will submit its affidavit in connection with that motion on October 2. On October 6, Mr Munroe and his team will submit their skeleton arguments, followed by the Crown submitting their skeleton arguments on October 9.
On August 3, Gibson was arraigned in a Magistrate's Court on 36 bribery and extortion related charges: one count of misconduct in public office, 16 counts of bribery, two counts of conspiracy to commit bribery, two counts of conspiracy to commit extortion and 15 counts of extortion - all of these concerned with Jonathan Ash.
About an hour after his arraignment, Justice Grant-Thompson granted Gibson $40,000 bail with two sureties and on the condition he does not reoffend and attends his trial. She did not impose any travel restrictions on Gibson, and neither was he required to surrender his travel documents or check into any police station.
Shortly after Gibson was granted bail, Mr Munroe stated his intent to reporters to challenge the constitutionality of Section 4 3A of the Bail Act which removes the jurisdiction of magistrates to grant bail in those circumstances.
"We've asked leave to add persons who actually were remanded for different periods of time and if we are correct that the law is unconstitutional and they were remanded because of that, there is a case that indicates that the persons who were remanded might be entitled to damages," he said yesterday.
"…And so you may have hundreds of persons who were remanded to custody when they ought not to have been, if we are right."
Last summer's amendment to the Bail Act made charges of intentional libel, assault, stealing and a number of other previously bailable offenses non-bailable in Magistrate's Court which resulted in an increase in the number of persons being remanded to the Department of Correctional Services and having to apply for a bond in the Supreme Court.
Additionally, the amendment did not return the power of magistrates to grant bail for the offenses of drug possession with intent to supply, certain firearms matters, rape, housebreaking, attempted murder and threats of death.