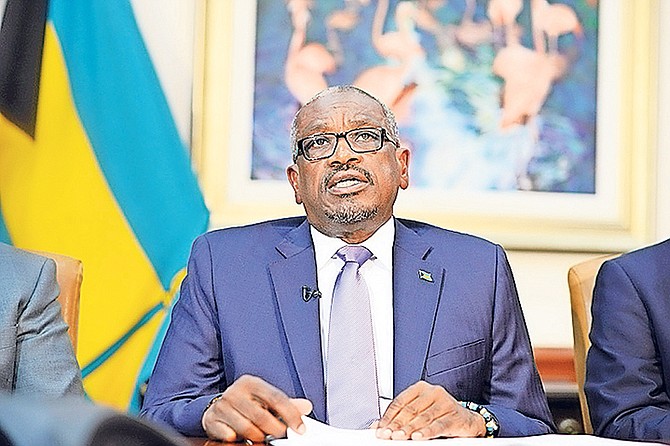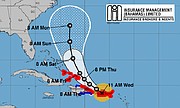 By RASHAD ROLLE
Tribune Staff Reporter
rrolle@tribunemedia.net
WITH the forecast for Hurricane Maria projecting the storm to pass near the Southeast Bahamas Friday morning, Prime Minister Dr Hubert Minnis is urging residents of those islands to be vigilant and prepared.
During a live national address from his office last night, Dr Minnis said: "Hurricane Maria is another potentially devastating hurricane that we must carefully monitor."
He added: Though most of the Bahamas was spared the devastation of Hurricane Irma, it is essential that the country remains vigilant and prepared. We cannot let our guard down."
Dr Minnis had a message for critics who found the country's Hurricane Irma preparations excessive: be grateful.
"Those who are inclined to complain should visit Ragged Island and other areas destroyed by Hurricane Irma," he said.
"I believe they will come away with a sense of gratitude and a better understanding of the need for precaution and to be prepared. A heart filled with gratitude has no place for complaining. The government of the Bahamas would be negligent if it did not warn in advance and in a timely manner of the threat of hurricanes to our archipelago, including potentially catastrophic superstorms."
Dr Minnis, who as opposition leader was at times critical of the former Christie administration's management of government agencies as the country faced hurricane threats, has strived to keep on top of such matters, winning praise last week even from current Official Opposition Leader Philip "Brave" Davis for the government's response to Hurricane Irma.
"As the hurricane season continues," Dr Minnis said yesterday, "I advise Bahamians and residents to keep shutters in a convenient place; ensure that important documents are in a secure place, and properly packaged, in the event you are required to move quickly; and to keep an overnight bag with clothing and toiletries in the event an evacuation order is issued. I also advise that you continue to trim trees and remove all debris which may become a hazard due to heavy winds. Those living in coastal areas should be prepared to relocate and take extra pre-cautionary measures."
The Department of Meteorology has issued a hurricane watch for the Southeast Bahamas and the Turks and Caicos Islands, as the dangerous Hurricane Maria eyes those islands, which were already impacted by Hurricane Irma less than two weeks ago.
This means that residents in those islands - Inagua, Acklins, Crooked Island, Mayaguana, Long Cay, Samana Cay and the Turks And Caicos - can expect hurricane conditions within 48 hours from Hurricane Maria, forecast to remain a category four or five storm over the next two days.
A hurricane watch is issued when a tropical cyclone containing winds of 74 mph or higher poses a possible threat, generally within 48 hours. These winds may be accompanied by storm surge and coastal flooding.
Maria has already devastated the island of Dominica and was barrelling towards Puerto Rico last night.