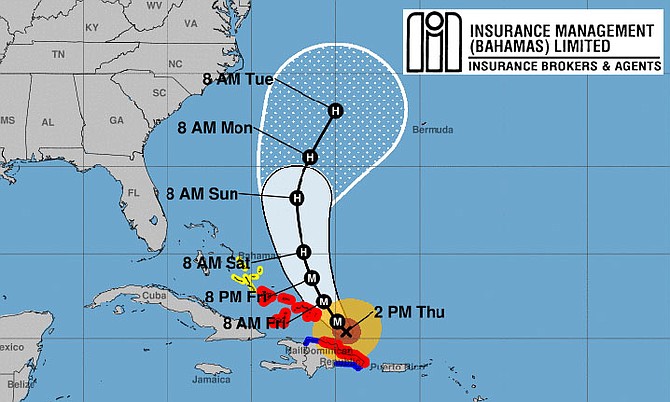 By SANCHESKA DORSETT
Tribune Staff Reporter
sdorsett@tribunemedia.net
RESIDENTS in the southeast Bahamas should prepare for "excess flooding" and tropical storm force winds as Hurricane Maria is expected to dump four to eight inches of water as it passes over the country on Friday, according to US Accuweather forecaster Dan Kottlowski.
Those islands include Mayaguana, Inagua, Crooked Island, Acklins, Long Cay, Samana Cay and the Turks and Caicos.
According to the National Emergency Management Agency (NEMA), residents in coastal and low-lying areas are urged to take the necessary precautions ahead of the storm.
A dangerous storm surge accompanied by large and destructive waves will raise water levels by as much as 10 feet to 15 feet above normal tide levels, near and to the north of the centre of Maria as it passes the Turks and Caicos Islands and the southeast Bahamas, NEMA said in a statement.
Mr Kottlowski said on the current forecast track the central and northern islands seem to have "dodged a bullet".
"Maria will make a close call for the Turks and Caicos and pass within 30 miles just east of them but this storm will be different for them – they will get winds, tropical storm force winds but the impact will be nothing like Irma," he said.
"As far as the Southern Bahamas is concerned, there is a good chance they will see tropical storm force winds on the current track but the winds will be on the far eastern edge so the winds will come in gusts and will not be super strong. The central and northern Bahamas is expected to have no issues at all. The biggest issue will be rough surf and that will be a problem only in eastern Bahamas. New Providence is so protected from the strong surf that hits all the islands so that won't be a big problem. Right now Maria is expected to pass well over 150 miles from New Providence, the Bahamas dodged a big bullet this time."
A hurricane warning is now in effect for the southwest Bahamas and the Turks and Caicos, including Mayaguana, Inagua, Crooked Island, Acklins, Long Cay and Samana Cay.
A hurricane warning means that hurricane conditions can affect the above mentioned islands within 36 hours.
The island of Puerto Rico has been destroyed after Hurricane Maria made landfall there as a category four storm Wednesday morning, according to cnn.com.
Puerto Rico's office of emergency management confirmed that 100 per cent of the US territory had lost power.
Maria is forecast to move off Puerto Rico's northern shores and into open Atlantic waters Wednesday night, potentially allowing the storm to strengthen, according to ABC News' meteorologists.
Maria is also forecast to approach the Dominican Republic on Wednesday night, but the Caribbean nation is not expected to get a direct hit.
By Friday, Maria will pass to the east of Turks and Caicos, where there's a potential for hurricane-force winds and heavy rain, but the storm is not expected to make a direct hit.
From there, the hurricane is forecast to pass by the southeast Bahamas.