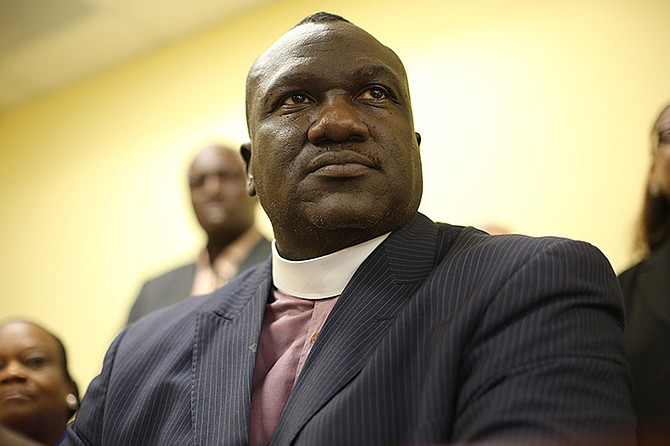 By SANCHESKA DORSETT
Tribune Staff Reporter
sdorsett@tribunemedia.net
BAHAMAS Christian Council President Bishop Delton Fernander said Monday he "fully supports" the Minnis' administrations plans to accommodate students from Dominica displaced by Hurricane Maria, but said the "details of how it will be done" are "very crucial".
In an interview with The Tribune, Bishop Fernander also said he hopes the people in Ragged Island and Acklins, whose communities were devastated by Hurricane Irma, are "afforded the same opportunities" as the Dominican students.
The Minnis administration has already said students from Ragged Island will be accommodated in schools in New Providence and Exuma since the community's only school was destroyed.
In a press briefing following the departure of Dominica's Prime Minister Roosevelt Skerrit from Jet Aviation on Sunday, Dr Minnis declared that whatever needs to be done will be done as quickly as possible to accommodate as many of the country's students displaced by the storm here in The Bahamas in both the public and private school systems.
Hurricane Maria, which made landfall in Dominica on September 18 as a massive category five storm, ripped through that island nation completely destroying communications, infrastructure and critical facilities.
The announcement has been met with fierce criticism from nationalists who believe the public school system is already over-burdened while others have praised the government for the humanitarian move.
"Just from the casual knowledge of what I know about the policy, what I heard on the radio and read in the news, it is the good Christian thing to do," Bishop Fernander said. "We want the same in return so we have to be good brothers and sisters.
"The BCC will wait to see how this will be done; the details are crucial. We support the effort and we are cognisant to mention that we hope the government provides the same level of support to those in Ragged Island who will have to have their students moved to new locations and also if that is happening in Acklins. We need to treat everyone the same."
Bishop Fernander said he hopes the same opportunities are also offered to Haitian parents, some of whom have recently complained that their children are being blocked from Bahamian schools due to a policy created in 2014 by the Christie administration.
"The Christian Council has spoken out on this issue in the past and it seems as though we treat some persons in the diaspora different from others," Bishop Fernander said.
"We need to be careful of the message we are sending there are no special group of people and everyone should be treated the same. Education should be available to all. It would only be fair, anything otherwise would appear we favour one over the other."
On Sunday, Immigration Minister Brent Symonette said no child should be denied education because of their status. He implored all school administrators to "admit" students and contact his office for any needed clarification.
Mr Symonette also said no government should prohibit any student from maintaining their education due to an "apparent immigration issue."
Last week, The Tribune reported about a Haitian mother who said she was considering placing her 11-year-old special needs son in the care of the state after he was allegedly denied access to school for three consecutive years because of the country's immigration policy.
The 2014 policy mandates that every person living in the Bahamas has a passport of their nationality with proof to legally reside in this country, among other restrictions. In early 2015 it was widened with the requirement that every foreign person enrolled in schools, including children born in the Bahamas to immigrants, have a student permit.