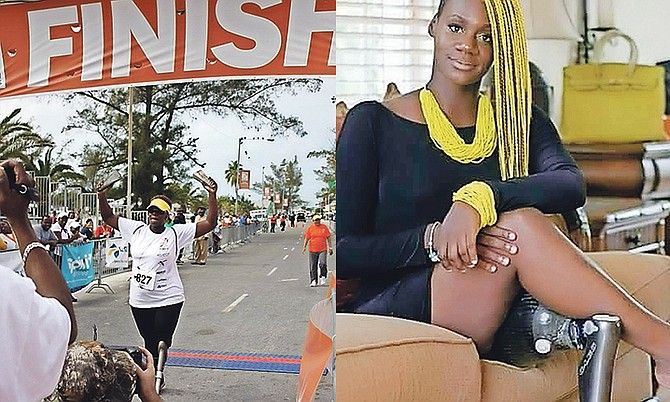 By JEFFARAH GIBSON
Tribune Features Writer
jgibson@tribunemedia.net
ERIN Brown may have 1,064 days to go, however when you are a bone cancer survivor, an amputee with limited resources and big dreams of being the first Bahamian female to participate in the Summer Paralympic Games in 2020, every minute matters.
The advocate and para-triathlete who is passionate about disability rights, inclusion, tourism and sports has been galvanizing support and funding for her participation in the 16th Paralympics Games scheduled for August 25, 2020 in Japan.
Erin recently launched a Go Fund Me campaign with the goal of raising $5000 to assist in getting the right prosthetics to enable her to compete.
Last week she travelled to the University of Chicago to meet with the prosthetist to be casted for the devices. While there she also trained with a cyclist for a customized bike and met Paralympian Melissa Stockwell.
"The Go Fund Me Campaign will continue as it will be used to also pay for the raw materials for this process. And it will be one of the platforms for raising funds for the 2020 Paralympic journey," she told Tribune Health.
"My adaptive devices are important. They allow me to train and push my body to the limits needed to excel and accomplish my goals."
In addition to a running blade, Erin also needs a cycling simple knee for the triathlon and another specialist device for rowing.
The cycling bike will be used for training and competition (along with the components such as clip in pedal, cleats etc). A wet suit will allow Erin to withstand cold temperatures while swimming.
"As I acquire those things, a support team will be established; a primary physician, prosthetist, physiotherapist, chiropractor and nutritionist. I will also a need trainer for each discipline including swimming, cycling, running, rowing, cardio, weight- training, yoga and pilates," she said.
Erin is no stranger to competing in sporting activities. In fact there have been a few pivotal moments on the journey that fueled her desire to participate in the Paralympics.
"During Sunshine Marathon coming down the finish line, there were three young girls cheering with such excitement and vigour. Reality hit me. This was not only a moment in my life but theirs; changing what they knew as disability and what determination looked like, she said.
"Ride for Hope and UWC Triathlon with the support of G-FIT crafted the desire to put all three; swimming, cycling and running together as one discipline.
"My passions have always been living my fullest life as a mother, entrepreneur and cancer survivor who lives as an amputee. Finally, the Bahamas National Federation of Rowing coming onboard to facilitate paralympic training in rowing has deepened my desire," she said.
Since receiving her first prosthetic leg several years ago Erin has not stopped training though she experiences discomfort and pain.
"I am involved in an array of activities on a daily basis; swimming, boxing, yoga, spinning, core and resistance training with the addition of adaptive kayaking will commence next month. Keeping my joints and muscles flexible enables me to retain good health and endurance," she said.
In 2004 Erin was diagnosed with stage 4 osteosarcoma and immediately underwent aggressive chemotherapy. Her left leg was so damaged she had to wear a cast during treatments.
A year later Erin had to make the life-altering decision - to amputate her leg in order for a chance at life. She risked it all and she is still here.

"My life was changed the moment I heard 'you have stage four osteosarcoma' and I have been changing ever since. I adapt, grow and risk everyday for a better life for myself and in turn my love ones," she told Tribune Health.
Despite all she has experienced Erin is determined to ensure her life makes a difference and her story impacts everyone who is aware of it.
"I sit in quiet and ask all the time 'why me ?' And every time I am reminded 'why not you?' Life is designed for growth, building, investing and being vulnerable. This is important to me because I am you. Your purpose is revealed to you in your deepest, darkest moments," she said.