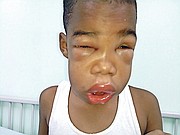 By RICARDO WELLS
Tribune Staff Reporter
rwells@tribunemedia.net
THE mother of an eight-year-old boy diagnosed with a rare hereditary condition is again appealing to the public for help in securing the life-saving medication needed to treat her son.
Fearing the next attack could come at any point over the next three months, Angelica Miller said she is in a race against time to raise $4,000 within the next four weeks.
Angelica's son, Tarique, is often described as a typical third grader. That is until his hereditary angioedema (HAE) flares up, at which point, "every living second is precious," according to his mother.
In an interview with The Tribune on Thursday, Ms Miller said while she is grateful for all the aid provided to her son over the course of the last five years, the monthly water drives, countless pleas to corporate Bahamas and cookouts have not yielded the nearly $8,000 needed to buy at least two vials of the medicine - Berinert – that is needed each year.
Doctors have mandated that either the family or local health officials keep at least two vials of the medication on island every year.
In cases where the drug is not available, Ms Miller is required to raise roughly $4,000 needed to buy each dose, officially request it from suppliers in the United States, board a plane, physically pick it up and then deliver it to doctors in The Bahamas.
Clearly flustered by the possibilities that her son could face in the coming weeks, Ms Miller said her only option is to "raise the money needed".
"There is no plan B, there is no do-overs in this situation," she said. "If his next attack comes and we don't have the medicine here, I don't want to face that reality."
HAE is caused by a low level or improper function of a protein called the C1 inhibitor. With HAE, the blood vessels are affected. An HAE attack can result in rapid swelling of the hands, feet, limbs, face, intestinal tract, larynx (voice-box), or trachea (windpipe).
During flare-ups, the body experiences major swelling, particularly in the chest cavity, resulting in restricted breathing. Patients suffering with the condition are unable to produce the necessary protein needed to reduce swelling and fluid retention in the body.
Attacks of swelling can become more severe in late childhood and adolescence.
Recalling an ordeal from last year when she had to rush her son to the hospital at 3am, check-in for a departing flight at 5am and sit through several delayed returning flights that evening, Ms Miller said she is terrified by what may come.
"It's not a pride thing for me, it's all about Tarique. God will never put more on you than you can bear, and in this case, I know if I do my part the Lord will meet me along the way," she said.

"I just can't go through what I went through last year because for the first time in a long time, I feared that I could lose my baby."
Of that attack last year, she said: "Tarique was rushed to the emergency room, it was around 3am. We were already waiting on one vial and it just so happened, in this case, I was already scheduled to travel for it.
"I had to pick between leaving my child in the emergency room and jumping on a plane to Florida to pick up the medicine needed to save his life."
She continued: "I got to the airport in panic, got on the plane, and once in Fort Lauderdale I rushed straight to the hospital there to get the medicine. I had to fill out all sorts of forms and I could feel the devil pulling at me.
"After some time and some issues, I got the medicine and was able to head back to the airport to come home. But everything that could go wrong, went wrong.
"I was told that the flight was closed. Meanwhile, my phone was ringing non-stop. Everyone wanted to know how far out I was because his condition was getting worse.
"I pleaded with the desk agents there, explained what the situation was. I was horrified."
Ms Miller added: "Eventually I got on, and had to sit through a couple of delays. Like I said, the devil was busy. In the middle of the airport in Fort Lauderdale, I let out a scream. Everyone looked at me as if I was crazy. I didn't get back in Nassau until late that night.
"As if it wasn't already bad, I got off the plane and customs and immigration (officers) were trying to hold me up. The only thing I had on me was a small bag, tossed over my shoulder, my passport in my hand and a small cooler with Tarique's medicine. I gave those people a look, told them what the issue was; and got to the hospital as quickly as I could."
She told The Tribune: "I can't face that reality of having my son's life dangling like that. Not again, I can't. I can't do that to him again."
Tarique was formally diagnosed by doctors at the Joe DiMaggio Hospital in Florida in November of 2014.
Those who wish to give assistance can do so by contacting Ms Miller at 812-1615 for more information on ways to help.