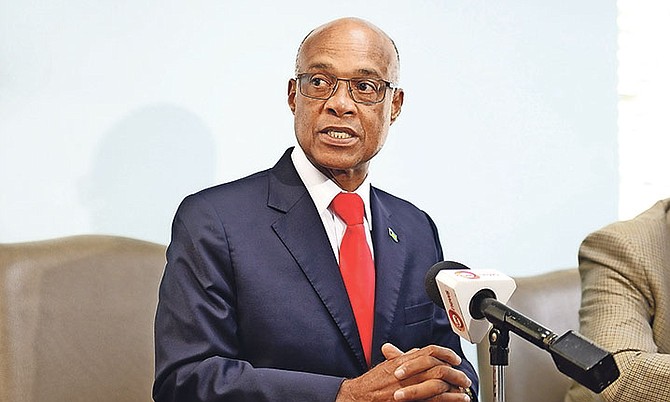 By Khrisna Russell
Deputy Chief Reporter
krussell@tribunemedia.net
EDUCATION Minister Jeffrey Lloyd defended the government's travel history yesterday as Prime Minister Dr Hubert Minnis and a delegation continue a trip at the Commonwealth Heads of Government meeting in London.
Previously, Dr Minnis and a group, including Mr Lloyd, were in Lima, Peru where the nation's leader addressed the CEO Summit of the Americas.
While in opposition, the Free National Movement routinely chastised the former Christie administration for its frequent travel and related expenses. Critics have now returned the favour and are questioning not only the cost to the public purse for these recent trips, but have raised concerns on the number of people included in the official delegations.
Speaking to reporters outside Cabinet yesterday, Mr Lloyd dismissed these concerns as "nonsense".
He further slammed Progressive Liberal Party Chairman Fred Mitchell who suggested the Minnis administration has been refusing to accept funding from a private donor to construct a new building to house a pre-school at the Sandilands Primary School. He said Mr Mitchell had been misleading in his public comments on the situation.
"We travel nowhere that we are not required to travel," Mr Lloyd said. "For instance, the government of The Bahamas is the chair of the Inter-American Committee at the Organisation of American States. That's required. We are the chair. We are required to be at a number of meetings around the region in order to advance the commitments we made.
"We made these commitments at the Organisation of American States' meeting in 2015 and again in this country in 2017, that's our commitment. We made the commitment that we would be at the forefront of seeing that our people understand that learning is a lifelong process, that we are focused and committed to delivering early childhood education that we are focused and committed on developing our educational professionals.
"These are the commitments that we made, so we must be at these meetings because we are the chair. We are facilitating it. The prime minister obviously has got to be at the Summit of the Americas. He's got to be at CHOGM.
"There is no meeting that we attend that we don't have to be at and matter of fact there are a host of requests and opportunities for meetings that we turn town simply because first of all we've got to again go back to being judicious and prudent in the expenditure of the public funds, but it isn't absolutely necessary for us to be there. So, I don't pay attention to those who criticise the whatever you want to call it."
He continued: "We don't consider ourselves to be travelling more extensively than is required and we're not going to do so because we understand the state of our financial affairs and we also understand our obligations to the international community of which have freely chosen to be apart and of to whom we've made commitments. So, I dismiss that nonsense."
Regarding the Sandilands matter, Mr Lloyd said this situation had been left to linger under the former Christie administration.
He said: "It's nonsense and I also understand although I can't verify, that we in the Ministry of Education as it were, staunching and resisting in this expenditure . . . nonsense, foolishness. Let's call it for what it is.
"Anybody who wants to make a donation to the Ministry of Education must come to the minister of education and if there must be an approval for any building and so on it must come across the minister's desk and I haven't seen any.
"As a matter of fact I believe the person or the company that they are talking about I had a conversation yesterday because we flew in the plane from Miami and invited me to understand what the previous process had been when in fact it was the previous administration who failed to follow up on opportunities for the building of the pre-school. So (it's) absolutely nonsense.
"You see this is my beloved brother and friend of over 50 years. (The) honourable Fred Mitchell, come on man, we go back decades. Come to me if you want to have a sharing of what it is that is best for education, but don't misrepresent to the Bahamian people because it's not true."