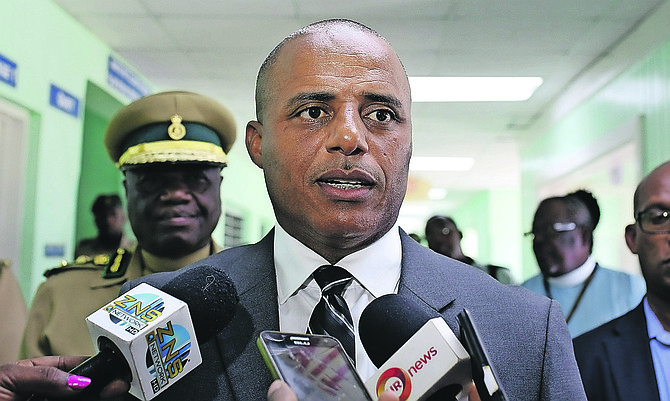 By KHRISNA RUSSELL
Deputy Chief Reporter 
krussell@tribunemedia.net
FOR the first quarter of this year, overall crime figures were "trending downward" with murders on the decline by 45.2 percent, National Security Minister Marvin Dames announced yesterday, while conceding "there is still a lot of work left to be done".
According to The Tribune's records, the last murder recorded in the country was on April 10, when 21-year-old Kenneth Kemp of Homestead Street was found dead in a building at Moore Avenue around five in the morning. He was the 26th murder victim this year, according to our records.
The day before, George Mortimer, 29, died in hospital after he was shot while at Homestead Street.
Speaking in the House of Assembly yesterday, the minister said armed robberies were down by some 31.8 percent, crimes against the person and property showed a decrease of 14 percent nationwide and stolen vehicles were down 13 percent.
In addition, he said 102 firearms were removed from the streets of the country, while 3,365 rounds of ammunition were also confiscated.
"Though still early we have begun to witness positive results in our efforts to reduce crime within our nation due to new amended legislation and new enforcement strategies," Mr Dames said as he wrapped up his communication during the start of debate on the Interception of Communications Bill 2017.
"I am pleased to report for the first quarter of 2018, as a result of re-energised efforts by a re-energised team led by Commissioner (of Police Anthony) Ferguson, Deputy Commissioner (Emrick) Seymour and the rest of their team as well as the commodore of the (Royal Bahamas) Defence Force and his executive team and the prison, customs and immigration - we are seeing the overall figures trending downward."
He said these recent successes were due in part to some short-term strategies, which will include the launch next Monday of the national Neighbourhood Watch Crime Council.
"… It's not only the job of the commissioner and his team," he continued. "This is why our leader Dr Minnis, our prime minister and the rest of the members of this House continue to push very progressive legislation to add to the fight to motivate law enforcement throughout this country, to energise them, to show them that we support them, to get the people of this nation behind them.
"On Monday, our leader will be launching the Neighbourhood Watch Crime Council, which is a national programme and I would like to take this opportunity to invite those on the opposite side to be our special guests at that event on Monday at the police headquarters.
"We are, however, encouraged because the decreases and other successes are not occurring by happenstance, but by carefully thought-out and deliberate changes in the way our legislative agenda and law enforcement conducts its crime fighting strategies, new methodologies and our broad approaches to crime fighting, law enforcement partnerships, intelligence, building relationships with the communities at large, drug interdiction and gun control will be the key to making us all safer in this beautiful country of ours," Mr Dames said.