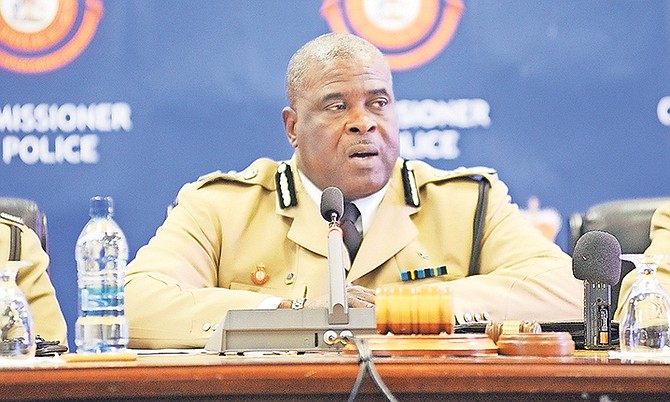 By MORGAN ADDERLEY
Tribune Staff Reporter
madderley@tribunemedia.net
POLICE Commissioner Anthony Ferguson has responded to a video circulating on social media of a Royal Bahamas Police Force officer slapping a man on a beach.
In the 14-second clip, the officer steadily walks toward the man and slaps him across the face, using enough force to cause the man to stumble more than once.
This was apparently not the first time the officer hit the man, as the person recording the video can be heard shouting, "N slap him again, bey!"
Speaking to Tribune outside the Police Training College on Friday, Commissioner Ferguson said the matter is currently under investigation.
"I've seen the footage and I've referred it to the deputy commissioner, who has the remit for investigation of our discipline," he said.
"As soon as the deputy has completed his investigation he shall advise me."
The commissioner was also asked his perspective of the survey results which showed that Bahamians believe police officers are more corrupt than any other public institution.
The survey, called the first of its kind in The Bahamas, was conducted by the marketing and research firm Public Domain between October 4 and October 17, 2017.
One thousand Bahamians were surveyed by telephone, including people in New Providence, Grand Bahama and the Family Islands.
Of the institutions and groups identified, 28 per cent of Bahamians said most or all police officers are corrupt. Thirteen per cent of respondents said they have given a bribe to a police officer before.
While Commissioner Ferguson admitted that there is "no room for corruption" in the police force, he also maintained that the RBPF can discipline officers internally.
"As I indicated [on Thursday], it is difficult to respond to perception or opinion of persons. I don't knock people's perceptions or opinions," he said.
"But as I indicated I do recognize there are issues in the [RBPF] as there are issues in other areas of society."
"I will deal with my own door step. And we have the capacity to deal with things that affect our organization. The [RBPF] for many years is the single unit or agency in the Commonwealth of the Bahamas that was always dealing with its own."
"And they will continue to do that, because we have a very important part to play, a task in society. So there's no room for corruption. So the integrity of the organization has to be maintained at all times."
"It's bigger than any one person. And so where we find that persons are afoul of the law, we shall deal with them."
Last month, National Security Minister Marvin Dames told The Tribune that under the last Free National Movement government, a committee was put in place to review complaints against officers, "to ensure that there was balance in investigations by police."
Mr Dames said it happened while he was Deputy Commissioner of Police with Responsibility for Discipline. He added that the committee was "abandoned" under the Christie Administration.
However, he promised that the Minnis Administration would see to its return.
"We have every intention of bringing that back very shortly, to ensure that there is balance," Mr Dames said.
"And we will look even further to see what else that we can do to ensure that the public has confidence that these investigations have been conducted with the highest level of impartiality and fairness."
"But as I said before, wherever there are complaints of police brutality, there are avenues whereby people can go and find recourse. There has always been."
When asked about Mr Dames' comments, Commissioner Ferguson noted that the minister was speaking from a "national level".
"That is something I think you should stay in the zone with the minister talking about. That's different from me," he said.