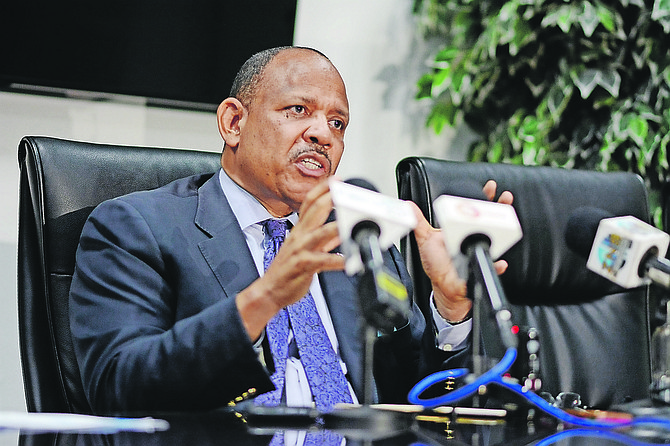 By NEIL HARTNELL
Tribune Business Editor
nhartnell@tribunemedia.net
Health officials will meet today to decide on the implementation of up to 500 fees at the Princess Margaret Hospital (PMH) as they seek to narrow a $50m funding shortfall.
Dr Duane Sands, minister of health, yesterday told Tribune Business that the Public Hospitals Authority (PHA) and other healthcare system elements are faced with "making some difficult decisions" that might result in "certain programmes and services" being stopped or cut back.
He suggested this might include in reduced hours and/or closures at some public sector clinics, as the Government's fiscal crisis means it no longer has "an infinite source of funds" to underwrite a system where 87 percent of PHA patients pay nothing for the care they receive.
Reiterating that the days of a "free lunch" were over when it came to healthcare, especially for Bahamians who can afford to pay or have medical insurance, Dr Sands said he was targeting "anomalies" that had allowed such persons a ride at the taxpayer's expense.
He cited the "exemption" that currently allows civil servants to enjoy free healthcare from the PHA, even though the Government pays $75m annually for them to have medical insurance, as one such "anomaly".
The Minister also pledged to "aggressively go after" potential revenue sources such as Road Traffic Act accident claims and compensation paid to workers injured on-the-job, pointing to the vast pricing gulf between the private and public healthcare sectors.
While a bed in Doctors Hospital's intensive care unit (ICU) cost $2,000-plus per night, a similarly staffed and equipped bed in the same unit at PMH "bills for no more than $200 a night". Dr Sands said the difference, with private sector prices ten times' higher than its public sector counterpart, "makes absolutely no sense".
Estimating that introduction of the proposed 500 PMH fees could occur six weeks after a final decision is made, the Minister of Health told Tribune Business: "We now need to take that from concept, given the budget and the anticipated deficit.
"We're meeting on Wednesday afternoon [today] at 2pm; the managing director of the PHA, and the various hospital administrators and financing folks, to conclude these discussions."
Dr Sands said a combination of "revenue enhancement" measures and spending cuts were being eyed to narrow the PHA's now-typical financing shortfall in the Government's budget, which appears to be increasing on an annual basis.
"We may have to stop certain programmes or certain services, but increase fees and charges to eliminate the shortfall," he warned. "Based on the budget requests versus what was allocated, it could be as much as $50m .
"The challenge is we've got to make some serious decisions about maintenance, infrastructure, quality of services, nursing retention and other things kicked down the road repeatedly. We can't do that any more. We have to make some difficult decisions.
"We have to look at the public health arena, the public clinics. While they are extremely important to the communities they serve, if there are adjacent clinics and we can achieve economies of scale, we may have to close certain clinics, cancel services and reduce hours," Dr Sands continued.
"The decision will have to be made to avoid any real disruption. In essence, at the end of the day there is no infinite source of funds, so tough decisions have to be made."
He emphasised that critical healthcare services will not be affected, with the Government's focus titled towards revenue enhancement so that the PHA can recover its costs.
"Given that certain things are essential services we have to have increased revenue," Dr Sands told Tribune Business. "In the pot of available income there's only so much diversion and reallocation we can do. I'm sure the other ministries are doing similar exercises."
Predicting that today's meeting on the proposed fees will generate "significant discussion", he added that the process from decision to implementation will take around six weeks. The Minnis Cabinet will have to ratify the outcome, while financial projections must also be submitted to the Ministry of Finance.
Dr Sands said the PHA was set to target long-standing revenue sources that have been ignored, sometimes for decades, in a bid to close its financing deficit/gap and improve service quality and infrastructure.
"There's some simple things," he told Tribune Business. "There's an anomaly in the charges; the exemptions that were created when there was no insurance for the civil service. In the PHA, civil servants don't pay, but they have health insurance paid for by the Government of the Bahamas.
"If there's a situation like that, which is clearly an anomaly, we're going to make the case that if we're already paying for that benefit the hospital should be able to generate revenue to pay for it."
Dr Sands said Bahamian taxpayers, via the Government, paid $75 million annually to ensure politicians, civil servants and the security services enjoy medical insurance cover. "It would seem to make sense that it would be the PHA benefiting from that," he added.
"It would go a phenomenally long way to improving service, supplies. Perhaps that alone opens up beds that are closed." The Minister said 87 percent of patients accessing care through the PHA pay nothing towards it, with the prime beneficiaries of civil service health insurance being Florida medical facilities and the private sector.
Identifying other potential revenue sources, Dr Sands added: "We have a huge problem with road accidents, and the vast majority of patients accessing care do not pay.
"The Road Traffic Act provides cover for personal injury. If somebody is injured in an automobile accident, why should the PHA not benefit from claims made under that Act.
"We're going to go aggressively after that revenue, and workers compensation for industrial injuries and accidents. "We're going to look at all these things to capture revenue being lost to the PHA."
Turning to the disparities between public and private health sector pricing, Dr Sands said: "An ICU bed at Doctors Hospital costs $2,000 plus per night. A similar bed, equipped and staffed, at PMH bills for no more than $200 a night.
"If someone has an insurance policy they go into Doctors Hospital and pay $2,000 a night. You go to PMH and pay nothing if you're a civil servant, but it's only $200 a night. That makes absolutely no sense; same bed, same service."
Dr Sands added that beds at PMH's neonatal intensive care unit, which he described as "even more specialist and sophisticated", charged $80 per night. "Many of the insurance policies will not pay for neonatal care in the Bahamas, but they will if the baby is transferred to south Florida," he said.