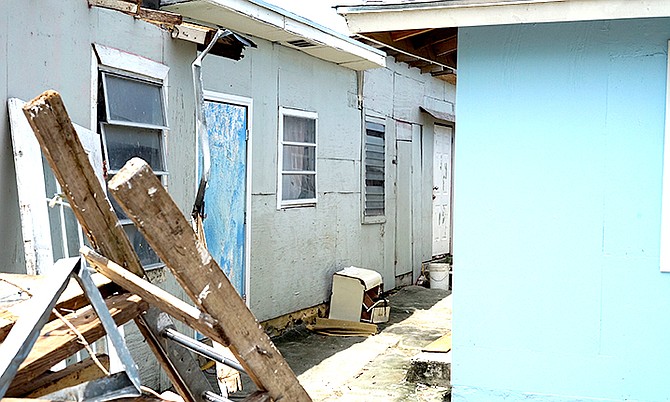 By AVA TURNQUEST
Tribune Chief Reporter
aturnquest@tribunemedia.net
THE Supreme Court has ordered the government and utility providers to halt any planned service disconnections or evictions in shanty towns pending a judicial review of the Minnis administration's policy to eradicate those communities.
Supreme Court Justice Cheryl Grant-Thompson granted the interlocutory injunction blocking evictions and service disconnections just days ahead of the government's August 10 deadline during a telephone conference with human rights attorney Fred Smith, QC, and Attorney General Carl Bethel on Saturday.
Leave for judicial review - filed on behalf of 177 shanty town residents from both New Providence and Abaco, and non-profit group Respect Our Homes Ltd (ROHL) - was granted on Friday.
A date for trial has not yet been determined.
Shanty town residents are seeking to ventilate concerns the government's "eradication policy" and subsequent evictions are unlawful, unconstitutional, and motivated by ethnic discrimination without clear title to land ownership.
An affidavit filed by ROHL Director Stephanie St Fleur contends the challenges faced by people of Haitian descent since the 1950s have dramatically increased, most notably since November 2014 when new immigration and shanty town policies were introduced.
She notes land was leased in New Providence and Abaco for farming, and lease holders or farmers invited workers onto the land the majority of whom were immigrants from Haiti, who over the years established homes. Many of those workers became citizens, permanent residents, or married Bahamians, according to Ms St Fleur, who stated immigration issues are an integral part of this case.
The affidavit points to an explosion of population growth and the consequent need for more land for urban development.
"(Shanty towns were) originally in predominantly far off rural areas which were far from sight and therefore far from mind," it read.
"They were known to exist and tolerated. They were farmed. They had animals. However, as population in New Providence grew, urban centres gradually approached unregulated communities, some of which have in the past been completely eradicated in the most brutal ways to make way for land urban developments for Bahamians."
It is also stated the government's audit of the Lands and Surveys Department will not be completed and made available to the public until December, and infers the government does not actually know whether the land in question is Crown land or not, or whether it is leased and on what terms.
The affidavit read: "In the limited time available, it has not been possible to adduce evidence that conclusively shows who the legal title holders are to the land, and who has other legal or other interest in the land.
"Those may be matters that are relevant to the grounds of challenge," it continued, "but for the purposes of this affidavit it is sufficient to note that the applicants do not accept that all the land is Crown land and less so that the Crown has full unencumbered title to the land and an immediate right of possession to it."
The affidavit read: "It may be that some land is leased and the occupiers are in occupation with the tenant's permission. It may be that some occupants were trespassers against the Crown who have acquired title by adverse possession. These matters will require investigation. Some of the individual residents claim to have leases; others have not fully instructed Callenders and so will require further time and investigation. The point of the present purposes is that there is no apparent right of the Crown to seek immediate possession of any of the land."
Ms St Fleur underscored the stark contrast between the mission of the government's Shanty Town Action Task Force, and the white paper published by the government on regeneration of Over-the-Hill areas, a district she posits shares a number of the same features as shanty towns. It was further noted the alternative housing recommended for evicted shanty town residents were "by and large in Over-the-Hill areas".
The affidavit added: "Plainly the government would never go on record stating that it had one policy for Haitian communities and one for Bahamian communities but in the circumstances described above the applicant's case is that the inference arises that there is such a discriminatory policy and that it underlay the decisions."