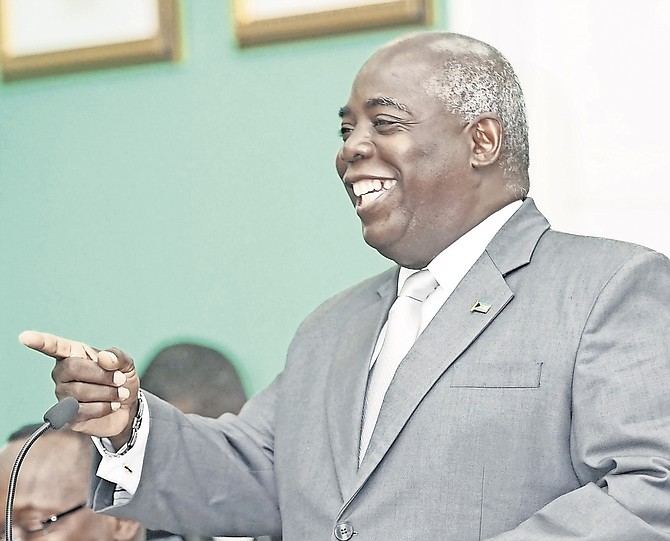 By RASHAD ROLLE
Tribune Staff Reporter
rrolle@tribunemedia.net
OPPOSITION Leader Philip "Brave" Davis said if he were the country's leader, he would not let the government buy the Grand Lucayan hotel properties, likening Prime Minister Dr Hubert Minnis' intention to do so to his ridiculed pre-election promise to renegotiate the Baha Mar deal after Chow Tai Fook Enterprises acquired the property.
Mr Davis said he would continue fighting to find a private buyer for the resort, insisting it will be too costly for the government to own and operate a hotel that wasn't making a profit even before it was shut down.
"First of all, it's not a going concern," he said during his monthly press conference at Progressive Liberal Party headquarters yesterday.
"If the Grand Lucayan hotel was a going concern with 400-600 workers employed and working, I would reconsider my view on whether they should purchase it. But it is not a going concern. The property is closed. It did not work in private hands. Do you think it will work in government hands? That's the question and I think not."
Paul Wynn, CEO of the company that previously sought to purchase the property from CK Property Holdings/Hutchison Whampoa, has said it could take as much as $120m to reopen the hotels.
"I don't know if they understand what they are getting into," Mr Davis reasoned. "It's not just buying the hotel, a hotel that's been closed for how many years since Hurricane Matthew. You need money to renovate it, probably need to think about what product you want that hotel to be offering. Will it just be a convention type offering? Would it be a casino, sun sand and sea offering? What is going to drive the property? What is going to be the attraction? How are you going to brand it? Will you run it through the Hotel Corporation? Will you bring in a management company to do it and if so, which one, and what will be the management fees? It's not just 'I will buy the hotel', just as he said 'I'm going to sell Baha Mar'."
During his national address in July 2017, Dr Minnis said the government would get the Grand Lucayan opened by the winter season, a target that has long been missed. Observers expect the resort will be closed for yet another winter season.
At the time, Dr Minnis said the government was eyeing taking an equity stake in the property to help Grand Bahama's economy rebound.
In late July, he told supporters on the island the government will purchase the hotel if it cannot be sold to a suitable buyer. The Minnis administration has set no timeline for its prospective purchase of the resort.
With the hotel's closure, Freeport has seen 59 percent of its room inventory taken out of stock.
Press Secretary Anthony Newbold said he expected the resort to be discussed at length during yesterday's Cabinet session.
"It is a matter of priority," Mr Newbold said yesterday. "We may hear about it (today). We may not. Those decisions and timelines haven't been expressed yet by the prime minister, primarily because it has to go before Cabinet."
Asked if the administration has a cap on how much it is willing to spend on the project, he said: "The prime minister said, 'Listen, we need to have this hotel opened.' What that will require we don't know yet. First of all, you have to decide what it's going to cost to get into this thing in the first place, but no cap, another one of those tough decisions the government has to make."
The Grand Lucayan resort featured three brands: Memories, the 500-room Breaker's Cay and Lighthouse Pointe.
The hotel closed in October 2016 for repairs after it suffered damage from Hurricane Matthew leading almost 1,000 people to lose their jobs.
In November 2016, only the 196-room Lighthouse Pointe reopened.