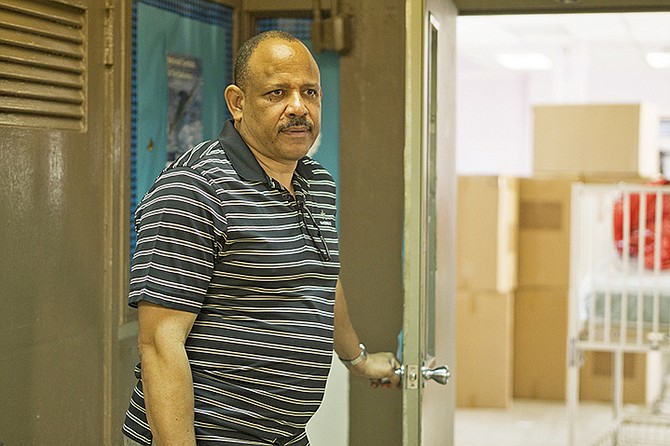 By KHRISNA RUSSELL
Deputy Chief Reporter
krussell@tribunemedia.net
AS nurses pressure the government to resolve longstanding industrial issues, Health Minister Dr Duane Sands admitted he is concerned that an approaching recruitment exercise could syphon public sector nurses out of the country.
It seems foreign entities want to capitalise on strained relations between the Bahamas Nurses Union and the government at a time when a nurse shortage presents major challenges to public health services.
Just last week, the BNU's patience appeared to be wearing thin as it threatened strike action. The union raised 14 issues in total.
But as Dr Sands insisted "excellent progress" has been made and nurses are set to receive money owed this month, "predatory" recruiters present new problems. The government can only hope a large number of nurses do no opt to take the offerings of foreign recruiters, Dr Sands said yesterday.
He suggested the government's introduction of low-cost housing lots and duty-free building materials was in part with a view to make the career path more attractive.
"Here we have recruitment teams from wealthier nations coming in to prey on smaller countries," Dr Sands told reporters yesterday.
"There are countries in the world where their entire professional medical staff have been gutted, devastated to the point where they can no longer provide essential health care services.
"Certain African countries that's happened. It's happened in the Caribbean and so at a very high level at the Commonwealth and at the World Health Organisation now there are interventions being made to try and stop this predatory behaviour.
"And so if you have a lot of money and you can come in and throw money and benefits and steal, suck up the personnel - bear in mind that the Bahamian people paid for the training of every single one, just about all of these nurses - and so the Bahamian people invested and now to have a foreign entity come in and say thank you very much we are going to take them because we need them in this hospital in Florida and this hospital in Mississippi (and) in this hospital in Arkansas."
He continued: "Is that right? So we do the very best that we can. We value the human resources that we have and we do the best that we can with the resources that we have.
"Bear in mind that there are many Bahamians struggling to make ends meet. There are many, many Bahamians trying to pay school fees, trying to keep the light on, to keep their children clothed and fed and so the government of The Bahamas must do as well as they can.
"But that doesn't mean that we are going to be able to match what somebody with very deep pockets can throw and so you do the best that you can and you hope that that's good enough."
An ever-present nurse shortage compounds the issue, he further lamented.
"It is absolutely concerning and certainly the fact that there are higher bidders. They are taking advantage of a situation that we have in The Bahamas and we have to respond.
"But your ability to respond is dependent on the ability of your economy and so when we made low-cost lots and duty-free homes available with nurses having a preferred spot on the line that was one step and as we roll out additional incentives. Hopefully some nurses will say that this is enough.
"Others will say it's not enough. The problem is that the people that pay the price for this are Bahamians and so, as we try to retain doctors and nurses and teachers bear in mind that we're competing with deep pockets from all over the world particularly from the United States and Canada. We've got to do our best and provide services to people who don't have a choice to go anywhere else.
"When you got big money and you have insurance you can go anywhere but there are a lot of poor people who can only get health care in The Bahamas, they are my main responsibility," Dr Sands said.