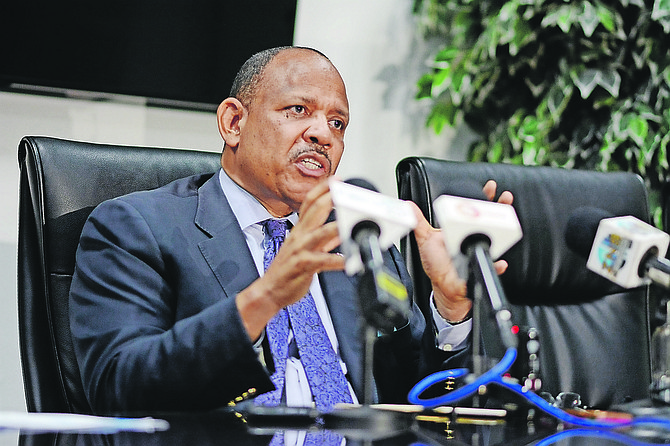 By AVA TURNQUEST
Tribune Chief Reporter
aturnquest@tribunemedia.net
THE Ministry of Health has given formal approval for two medical marijuana conferences to be hosted in the country, Health Minister Dr Duane Sands confirmed yesterday.
The medical marijuana conferences are being organised separately by Dr Lynwood Brown and Dr Marcus Cooper.
It was also disclosed yesterday an advocacy group has submitted an application to the ministry under the Dangerous Drugs Act for a licence for medical research.
The Bahamas Cannabis Research Institute (BaCaRI) has requested a three to five-year research and development licence to allow for marijuana production and testing, according to its chairman, Terry Miller.
Dr Sands told The Tribune he had not yet seen the application, but stressed there should be no expectation for a "proliferation of licences in the immediate or short-term".
"I have not received any such application, and quite frankly the method of application is through the Pharmacy Council. Ultimately the way it's processed, the minister doesn't have the technical heart of the administration of these things, it would include chief medical officer and Pharmacy Council."
He continued: "Each application will be assessed on its own merit and we have no reason to approve or deny anything arbitrarily."
Last month, Prime Minister Dr Hubert Minnis announced a government-appointed committee will be given three to four months to conduct widespread town hall meetings on the possible legalisation of medical marijuana in the country.
However, legal pathways already exist for medicinal and scientific use of cannabis - legislatively defined as Indian hemp.
If approved, BaCaRI's application would represent the first license granted under the Dangerous Drugs Act for the plant, which is classified in part II of the act along with coca leaves, crude cocaine, and raw opium.
In an accompanying letter to Dr Sands, Mr Miller stated his group's intent to become an industry leader in scientific research for not only cannabis but wider field of plant medicine.
Mr Miller stated: "Along with our consultants and partners, our goal is to become a leader in scientific research of not only cannabis, but an array of Bahamian cultural 'bush medicines,' and other natural plant remedies, by establishing one of the best research facilities in the Western Hemisphere.
"Our farm, nursery, and lab will train and employ scores of young farmers, technicians, and scientists within the next three years, and we expect dozens of patents coming out of our research," the letter continued.
Mr Miller further underscored commitment to build on documented scientific research to develop standardised dosing regiments, and new products.
"We will follow best industry standards on the farm, in the greenhouses, in the research facility, and in the way we operate," Mr Miller stated.
"We assure you that our farm, research facility, and testing, will be done in secure and clinically efficient environments, ensuring the security and quality of the product, and the safety and health of our patients, and our team of specialists and collaborators are ready to begin the necessary steps to bring it all into reality."
The Tribune reported last month a marijuana conference was tentatively set for this autumn with an endorsement from the Ministry of Health.
At the time, Dr Brown, lead organiser, said plans to bring experts and industry stakeholders to the Bahamas to educate on medical cannabis products, treatments and modes of delivery had been underway for several months and are now just waiting for a green light to proceed.
Yesterday, Dr Brown said organisers had now turned their focus to obtaining approvals from the Ministry of National Security and the Pharmacy Council to enable the import of products for exhibits and demonstrations.
The Tribune was unable to contact Dr Cooper up to press time.
Yesterday, Dr Sands added: "The sensitivity of this matter right now is appreciated. While we understand that there is a tremendous enthusiasm, don't expect a proliferation of licenses in the immediate or short term."