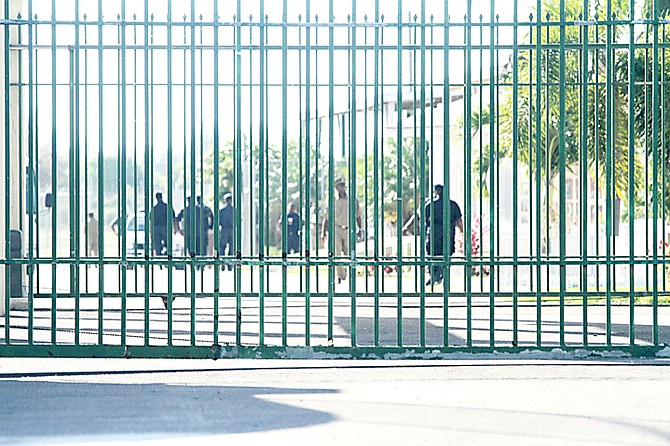 By KHRISNA RUSSELL
Deputy Chief Reporter
krussell@tribunemedia.net
THE Ministry of National Security is preparing to advertise internationally and locally to fill the post of commissioner at the Bahamas Department of Correctional Services, National Security Minister Marvin Dames told reporters yesterday.
Although he insisted it is hoped there is a Bahamian capable of the job, Mr Dames said the government wants to retain the best person possible, suggesting it was not opposed to appointing a non-Bahamian.
Patrick Wright, the most recent commissioner at BDCS, is on pre-retirement leave.
Mr Dames said: "Very shortly we will be going out and advertising for a new commissioner of the Bahamas Department of Corrections and that advertisement will go abroad as well as we will send it out locally.
"Our hope is at the end of the day we will have a Bahamian leading that institution but we're now looking for someone capable of transforming it into a modern facility hence the reason why we're looking across the globe right now for a new commissioner.
"We are trying our utmost not to get caught up in the practises of the past. We are seeking to modernise this institution. We are seeking to define persons who will fit (and) who can help us in that modernisation process. Hence this is why we are taking this particular direction," he also said.
"We hope at the end of the day we have a Bahamian leading the institution but at the end of the day we're going to look at what is best for the institution and by extension what is best for The Bahamas."
He could not give a definite timeline for the publication of the ads. However he said it is hoped it would be complete within a month's time.
Mr Dames also said the BDCS will soon undergo structural upgrades.
He said it was important officials ensured this kind of work was done to deter prisoners attempting to escape as was the case last week when guards discovered a hole in the ceiling of a maximum security cell shared by two inmates.
"Since that you know that we are dealing with a very, very aging structure and from time to time we will have certainly instances where persons would attempt, given the age of the structure, so what we have been doing since the incident is doing an assessment of the entire maximum security structure at the Bahamas Department of Corrections to ensure that there are no other breaches and that has been going extremely well."
The ministry has also completed two requests for proposals for new CCTV and drone systems - in an effort to beef up crime fighting measures. Both now need review before going before Cabinet.
Mr Dames said he was unsure of the status of a third request for proposals for police body cams, but they are in the fiscal budget for this year.
"It's just a matter of having the RFP prepared and sent out so that's very much on our agenda as well as CCTV and the drones programme to which we would have spoken about," Mr Dames said.