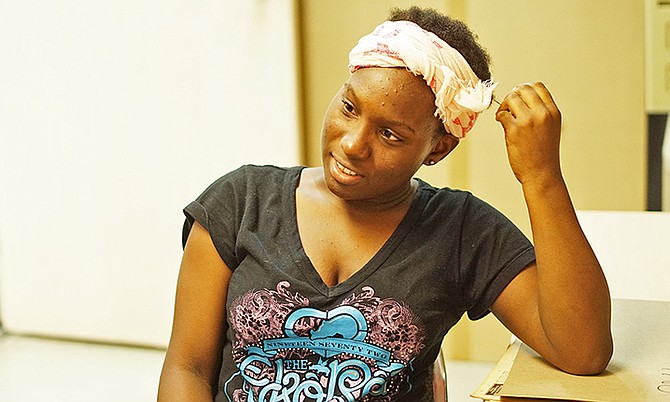 By AVA TURNQUEST
Tribune Chief Reporter
aturnquest@tribunemedia.net
THE government is working assiduously to ensure stateless teen Taranique Thurston is able to access life-saving medical treatment in the United States, The Tribune has beens told.
A senior official, who spoke on condition of anonymity, explained Taranique's status presented a challenge as there was no formal position on how the government will deal with the potential hundreds of people in similar circumstances.
The official noted her case will likely be closely watched, as it could set a legal precedent.
Due to her mother's naturalisation process, Taranique is currently registered in the Bahamas as a non-Bahamian born to a foreign mother and Bahamian father, who are unmarried.
Taranique was issued a certificate of identity on Friday; however, it was explained this document is only accepted by the US government under most extreme circumstances.
In response to questions placed by The Tribune, a US Embassy spokesperson said the embassy required a valid passport.
The spokesperson spoke generally, as the agency did not comment on specific visa cases for privacy reasons.
"We are very optimistic by tomorrow there will be some resolution," the Bahamas government official said.
"She has a meeting with director of immigration in the morning which should bear some fruit. We are very concerned that she is able to get the necessary treatment. Her situation was her mother was not a citizen when she had her, which put her in a special category."
The official continued: "The public should know that we're working to fulfil those obligations very hard to ensure she gets the medical treatment that she can't get in the Bahamas. Now we're making it a priority and we're also working with foreign American officials to make her case a special one."
Article 7 of the Bahamas Constitution provides for persons born in the country to non-Bahamians to make an application at the age of 18; however, the Nationality Act allows the minister of immigration to use his discretion to consider applications.
According to the Haitian constitution (Article 11), "any person born of a Haitian father or Haitian mother who are themselves native-born Haitians and have never renounced their nationality possesses Haitian nationality at the time of birth."
However, this entitlement is not extended to second or third generation descendants whose parents were not themselves native-born Haitians.
Bahamian born children of Haitian migrants are only Haitian citizens by law if their parents were born in Haiti, and have not renounced their citizenship, and can prove they hold citizenship, according to a 2010 academic paper by Kristy Belton, recipient of UNHCR's 2015 Award for Best Doctoral Research on Statelessness.
Dr Belton posits that children become de-facto stateless, "when the parent is of Haitian descent, but is not a "native-born" Haitian, or is undocumented or cannot prove possession of Haitian citizenship.
She further outlined in the paper that the official narrative espoused by government officials that the phenomenon was not due to Bahamian law, and that children born in the Bahamas of Haitian parentage had the right to a Haitian passport - was an "unfounded assumption".
It continued: "One cannot simply go into the Haitian Embassy in The Bahamas and acquire identifying documents because one "sounds" or "looks" Haitian. One must be able to prove that he or she is a native-born Haitian and this is often very difficult to do when a person does not possess the relevant identifying documents.
The paper stated: "Moreover, Bahamian citizenship and naturalisation law, and the Bahamas' lack of accession to the 1961 statelessness convention, exacerbates the vulnerable position of these children."
As reported previously, 15-year-old Taranique needs treatment at Jackson Memorial Hospital in Florida for the fluid collecting in her brain.
The ordeal has taken a significant toll on Taranique and her mother, who described the past two weeks as an emotional rollercoaster.
Referring to Taranique's certificate of identity, Taranique's mother Ginette Caty said: "They still put the same thing on it. If the document say Commonwealth of the Bahamas for nationality, Bahamian got to be there, how could you put something else there? How can you put Haitian? They still ain't gonna recognize this, only thing is this a grey one and look more like a new model, but what's the difference?
 "I ask my girl how she feel and she put her head down and said I just want to live, that's all right now. And tears come out of my eyes, I said you're going to live you know, you gonna be a testimony."
For herself, Taranique said she has reduced her use of social media due to negative comments. She said she felt like a "dog", but was resolute in her determination to remain positive about finally getting treatment.
"I just want to get my surgery, so I can stop having headaches," she said. "…I want to be an accountant".