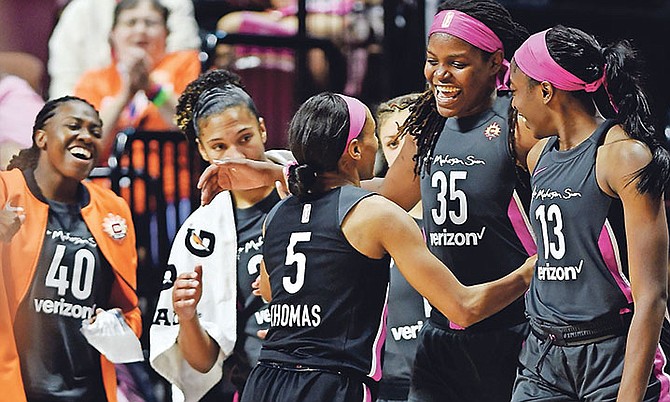 By RENALDO DORSETT
Tribune Sports Reporter
rdorsett@tribunemedia.net
JONQUEL Jones and the Connecticut Sun continue to click at the right time and clinched their second consecutive WNBA playoff berth.
The Sun defeated the Dallas Wings 101-92 at the College Park Center in Arlington, Texas, on Wednesday night.
It was the team's fifth consecutive win, and the late playoff push now has them ranked at No.5 in the lastest WNBA playoff standings. The Sun (17-12) are just one game behind the Los Angeles Sparks (18-11) for the fourth spot.
Jones finished with 17 points and a season high four blocked shots. She shot 7-12 from the field, including 3-4 from beyond the arch. "The standings are close, are tight, we're a playoff team so anything less is a disappointment so we know it's a final push and we want to make sure we're there at the end," Jones said to ESPN following last week's win over the New York Liberty.
Connecticut led by 20 points entering the fourth quarter but Wings cut it to 96-90 with 42 seconds left. It was the closest Dallas had been since the 5:19 mark of the second quarter. The Sun also set a franchise record with its fifth straight 90-point game.
Connecticut shot 60 per cent from the field in the first half for a 48-32 lead and finished 40-71.
The Wings have lost six straight but still hold a two-game lead on Las Vegas for the final playoff spot.
The Sun have five games remaining in the regular season, including the finale against the Sparks on August 19, which could be a pivotal matchup for playoff seeding.
Since a July 13 game where Jones scored just five points in 14 minutes, Jones has averaged 15.8 points and 5.5 rebounds per game on 63 per cent shooting from the field and 48 per cent shooting from three-point range.
"I work hard and when I come out I just have to trust that process, trust that I put up the shots and put up the time so when I come out I just want to speak less and play more," she said.
Since the 2016 season, the WNBA implemented changes to playoff seeding and qualification procedures as well as the postseason format.
Under the new postseason structure, the eight teams with the highest winning percentages regardless of conference qualify for the playoffs and are seeded based on their record.