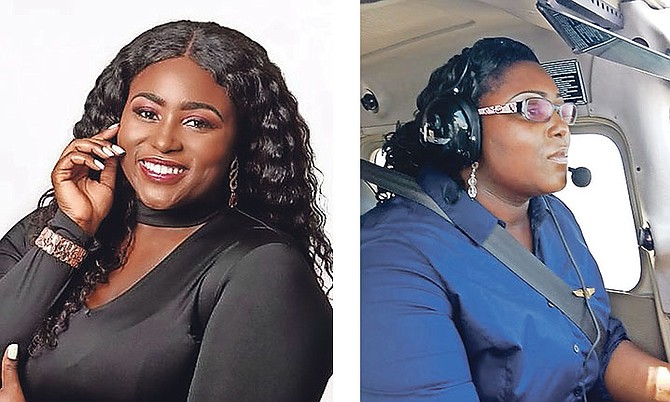 By JEFFARAH GIBSON
Tribune Features Writer
jgibson@tribunemedia.net
For the past year, Onesha Adderley has juggled being the queen of two runways. She is the reigning Miss Plus Beauty Bahamas International and is also currently pursuing a career as a pilot.
Her reign as Miss Plus Beauty since being crowned last November has been a rewarding one. Last month she made Bahamian pageant history by being one of the first contestants to place in the top international five and taking home the title for Best National Costume during the Miss Plus World held in Atlanta, Georgia.
Onesha's journey to the international pageant stage started when she decided to stop hiding in the shadows and step into the spotlight.
"I always admired the confidence women took to go out on stage and the ability to do so gracefully. I occasionally helped out behind the scenes because I was afraid that there would be a repeat of my high school years. Because of my size I was bullied in high school, so I found comfort in the shadows. This stunted my personal growth, as I didn't apply myself as well as I should have in many areas. It was only because of my loving family and friends who supported me that I became determined to challenge myself to do something new and valuable. I had no idea what I was getting myself into, but I'm glad I took a leap of faith and applied to be a contestant. I now help others try to get out of the situation that I once found myself in," she said.
So far, Onesha has used her platform to address issues of violence against women and childhood bullying. She has also been modelling in runway shows, showcasing body diversity, raising awareness for autism, and distributing food, clothing and supplies to those in need.
One of her favourite moments was being able to encourage small groups of young ladies to love themselves and to remember their worth as well as attending the Zonta International and Jones Communication conclave focused on speaking out on violence against women and Children.
But a major highlight for her was undoubtedly participating in Miss Plus World Pageant: "Walking out on stage to showcase my national costume, which acclaimed Junkanoo Artist Lamone Bowe and I painstakingly put together. To be able to showcase the hard work and creativity and for it to be so well received on an international scale was a very teary-eyed moment for me as it was a direct symbol of our culture. Junkanoo is a passion that I have and I enjoy when people get to experience the magic of Junkanoo."
"Words really can't describe my full transformation from this journey. What I can say is that it has taught me to be a more outgoing person and to push myself as far as possible, and in my case the sky is definitely only the beginning. If what you are doing can change the life of only one person for the better, then it is still worth doing on the whole. I have become more confident, determined, mentally stronger, and I'm proud to make a difference in my country," she said.
Onesha is currently pursing a Bachelor's degree in Business Administration in Management at the University of the Bahamas.
She is a member of the National Society of Leadership and Success and she served on the board for the Bahamas chapter of the National Society of Black Engineers, for which she attended the annual convention held in Pittsburgh, Pennsylvania.
At this conference, and by meeting so many inspirational individuals in the field of aviation and being exposed to diverse businesses, she decided to pursue her childhood dream of becoming a pilot. Onesha completed her training and received her private pilot's licence in 2014.
In between semesters, she successfully achieved her instrument rating at Sky Eagle Aviation and is currently working on obtaining her multi-engine rating. She is also a member of Women in Aviation International and hopes to establish a chapter in the Bahamas.
"Aviation has always been very close to my heart, even as a young child. I remember the best part of family vacations being the departure and return as I mostly looked forward to the plane taking off and landing," she said.
"There are so many aspects that I love about aviation, but the part I enjoy most is the flight. The fact that you control the aircraft and the breathtaking views from the cockpit, it's phenomenal. To see the world from above is a treasure, as every time you hit the sky it's a different scene, so you simply cherish each moment."