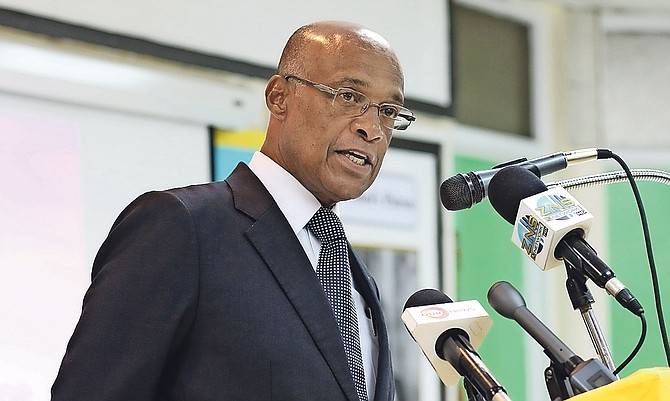 By AVA TURNQUEST
Tribune Chief Reporter
aturnquest@tribunemedia.net
EDUCATION Minister Jeffrey Lloyd yesterday revealed the government has decided to bring an end to the contract worker system by the end of the next fiscal year.
He told media at Cabinet his ministry is conducting an audit of contract workers to get a definitive number - and related details - on the estimated 600 to 700 workers engaged with the ministry.
Workers on contract at the ministry had reportedly experienced payment delays; however, Mr Lloyd said payments were issued this week.
"Some have been paid last week," he said.
"Please know that we are going through yet again, an audit of contract workers. Why? Because we want to know who is there, who is working, where are they working, are you being properly registered in the system, being properly paid? Are you being paid by the Ministry of Education, are you being paid by the Ministry of Finance?
"We want to clarify this once and for all because the Cabinet of the Bahamas has decided that this contract worker business is going to come to an end sometime over the next fiscal year.
"We are going to put people in some proper status so they can either be on the way to permanent and pensionable or they are going to truly serve a contractual period and the period comes to the end, then there is no longer an engagement with a particular individual."
Mr Lloyd continued: "We want to know definitively how many people we have in the system, how many persons are coming to work on a regular basis, how many are being paid by the Ministry of Education because we are now being advised that some of the persons on the ministry payroll may have retired or in fact may have left the system. We want to clarify that once and for all so that we can report to you."
Mr Lloyd also provided an update on 2018 school repairs.
He confirmed Eva Hilton Primary School will not be ready for the start of school next month, along with Holmes Rock Primary in Grand Bahama.