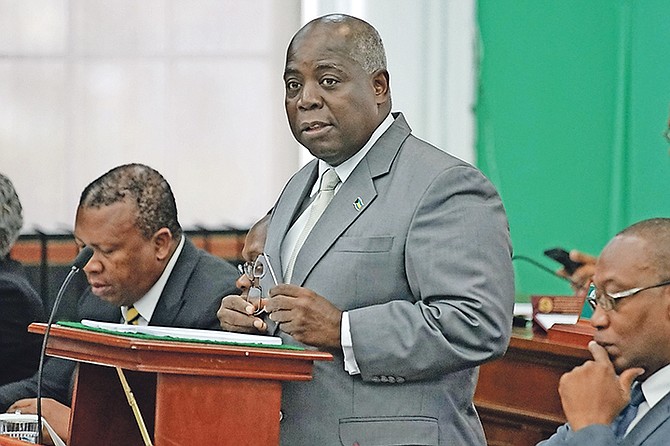 By KHRISNA RUSSELL
Deputy Chief Reporter 
krussell@tribunemedia.net
PROGRESSIVE Liberal Party Leader Philip "Brave" Davis said he was surprised by the dissolution of the entire board of Bahamas Power and Light on Tuesday.
This breakdown, he said, was proof the government had failed to firmly implement a plan for BPL or tackle its power generation challenges.
Meanwhile, former BPL executive chairman Leslie Miller questioned whether the ex-board was technically savvy enough to handle the day-to-day issues at the company.
"The board of any government agency is there to ensure that the political directorate's policy, initiatives and plans are carried out," Mr Davis said yesterday.
"If you are going to just appoint a board without giving them a mandate and without them understanding the coherent plan for delivery of whatever they deem to be necessary for the Bahamian public, you are just, as it were, laundering your board. No more than that."
He suggested BPL's board would be no different from the last because it appeared the government would continue to act in the same way, which would only yield the same result.
"I continue to remind this government not knowing is not synonymous to dumbness. Not knowing and not knowing that you don't know…that's dumb. There are persons amongst us they don't have to be PLPs, they have them amongst their own supporters who could lend their expertise and help their governance, but, low and behold,  it appears that advice is nothing that this government seeks."
Mr Davis maintained the former Christie administration's plan for BPL was superior to this government's intentions for the company.
"We set up a structure that was going to deliver in the shortest possible time new generation, reliable and affordable services to the Bahamian people. In fact if you were to check your bill in May of 2017 you would note that your bill was in the neighbourhood of 30 cents per kilowatt hour.
"I think if you look at it today it is back to pre-2012 rates and so it tells you within a very short period of time this government and through its board was not at least appreciating that there was a system in place, a structure in place to address what I call the legacy issues that impacted BEC and it was a complete answer to it.
"They scrapped it. Having scrapped it they had no alternative plan in place. So at the very least if they were going to employ their own policy of stop, review and cancel perhaps they ought to reverse it and just review first before stopping, but they are just stopping and moving on without their own plan."
He continued: "This is of concern because we are hearing about the number of consultants that are being brought in, the kind of salaries that's being expended on these consultants and what they are being brought for."
He also suggested BPL's staff reduction exercise has hindered the company's efficiency.
"We note with dismay that BPL spent $73m or there about for an exercise that was not properly thought out or planned because what you have done is separated over 300 employees and now you are saying you don't have enough employees.
"It's costing the Bahamian people and at the end of day this further exacerbates the cost of electricity."