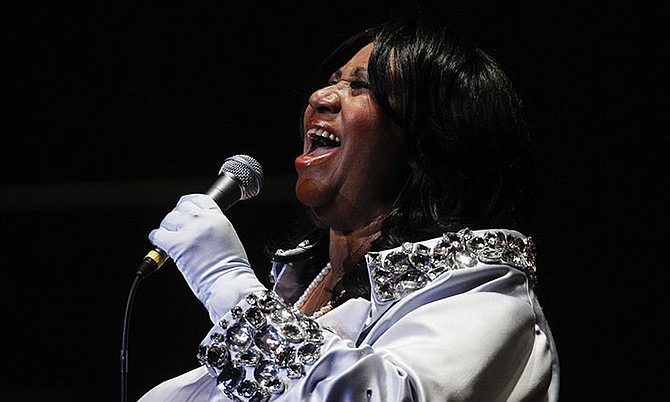 http://youtu.be/QLSefJDauNA
By MORGAN ADDERLEY
Tribune Staff Reporter
madderley@tribunemedia.net
YESTERDAY, the world paused to mourn the loss and honour the legacy of Aretha Franklin.
Although Franklin was born in Tennessee and raised in Michigan, the impact of her music spanned continents and inspired generations of artists, including local musicians.
Yesterday, three Bahamian female singers, Wendi Lewis, Kamilah Gibson and Mericha Walker, told the Tribune how Franklin's artistry impacted them.
Ms Gibson, a singer-songwriter, said Franklin's path from a small town to a global stage serves as inspiration for Bahamian artists.
"(Franklin) came from a small town and followed her dream to mega stardom. I think any Bahamian creative with lofty goals has likely taken cues from her in that sense - I know I have," Ms Gibson said.
Referencing classics such as "(You Make Me Feel Like A) Natural Woman", "Say A Little Prayer", "Think", "Respect", "Son Of A Preacher Man", "Chain of Fools", and "Never Loved A Man (The Way That I Love You)", Ms Gibson told The Tribune: "Aretha Franklin is part of the soundtrack of my life".
"(These) were all songs that are so closely tied to my memories dancing in the living room with my Mom and doing weekend morning chores," she added.
"(Franklin's) voice was so big and unfiltered and unapologetic, you can't help but be inspired (and) transported. Hers was the kind of voice that could make you dream of bigger things."
Ms Gibson went on to describe Franklin as being synonymous with "attainable genius", "magic" and "vocal phenom".
She also said how Franklin influenced her own artistry and drive.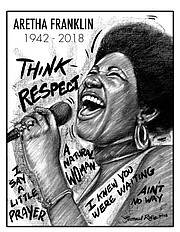 "I was inspired by her to be more mindful of 'feel' in my own music. The passion in her voice on "Never Loved A Man" could break your heart."
"I always try to do that- I aim to transport people to an honest vulnerable place in my own style the way she did. Also, her voice was so phenomenal it made me want to push my own voice; to learn the craft closely so I could truly claim it as a skill."
"Artists like Aretha pushed me into vocal lessons. Her life outside of music was also rich. I think she'll always inspire me to push for more, musically and civically for everyone but particularly women and people of colour."
Singer, songwriter and performer Wendi Lewis described Franklin as an icon who will continue to serve as an inspiration.
"When I saw that Aretha was sick a few days ago, I felt that this may have been her farewell to the world," Ms Lewis said.
"Learning of her passing this morning deeply saddened me and I was immediately reminded of Ms Franklin's iconic status as a vocalist."
Ms Lewis said her favourite Franklin rendition is her performance of "Nessun Dorma". Ms Lewis added she played that song after learning of Franklin's death, and "felt inspired".
"That's the amazing thing about iconic voices...They continue inspire us, even when they are gone," she said.
As a teenager, Gospel singer Mericha Walker had the opportunity to hear Franklin perform live in a Maryland church.
"I'm just happy that I was able to have an encounter with her, because I actually heard her sing in person," Ms Walker told The Tribune.
"I'm happy that I've had that moment…I'm glad that she's no longer in pain."
Ms Walker said she grew up listening to and singing Franklin's music, describing Franklin's music as her "go-to", in terms of favourite songs to sing.
"I think she suffered enough," Ms Walker added. "I think she fulfilled her purpose on the earth, I think she inspired a lot of people.
"I believe that she was definitely "the voice", and I think that she did was supposed to do."