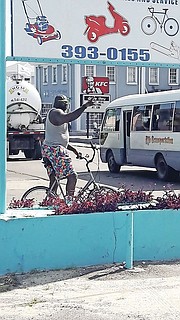 By FARRAH JOHNSON
fjohnson@tribunemedia.net
RETIRED NBA star Shaquille O'Neal stopped by a local bicycle store while on vacation to pick out a bike to cycle around town.
Workers at Cycles Unlimited on Mackey Street were in for a pleasant surprise when the basketball legend came in this week to purchase a mountain bike for him and his trainer.
Mary Stubbs, the salesperson on the floor at the time, told The Tribune that on Wednesday a man and a woman came into the shop and explained they were looking for a bicycle for Shaquille O'Neal.
According to Ms Stubbs, the pair took a few pictures explaining that they would be back soon before leaving the store.
"I wasn't expecting him (Shaquille O'Neal) so soon and about within two to three hours, I saw a car pull in the driveway and out came our Minister of National Security Marvin Dames, and when I looked I saw this tall person," she said.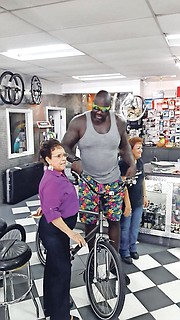 "I couldn't believe it. Looking at him on TV and comparing him to what he looks like in person is completely different," she added.
Ms Stubbs said she showed Mr O'Neal the bike they had selected for him, but she and her boss quickly realised that he would need something bigger.
"I said the only (other) thing I have is a regular cruiser which is a twenty-three inch frame. I showed him that, and he said 'That's the bike.' So we took it and we got it fit for his height and everything."
The owner of the bike shop, Shirley Campbell, said the store is no stranger to guests who vacation on Paradise Island.
Describing her encounter with Mr O'Neal, she said: "He's very funny and very nice. All the people that were with him, they were all laughing and talking and they had a really nice time collecting his bike.
"He was very happy that we were so nice to him and we got along so well," she continued.
Mrs Campbell said once the transaction had been completed, Mr O'Neal just "rode off" in a "jolly" manner on his bike from the store.
"He is a really nice person. I'm sure they're going to be coming back sometime. At least that's the way he made us feel - like he'll be back," she said.