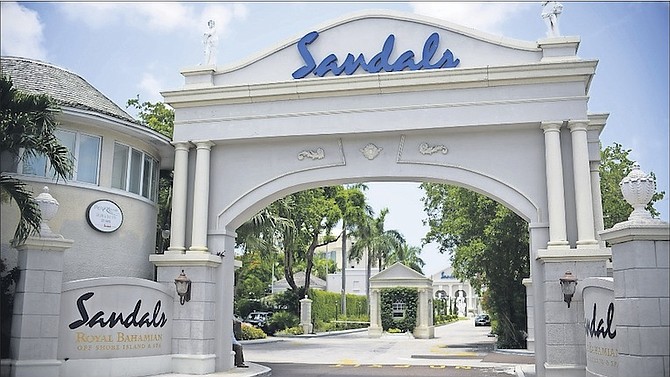 SANDALS Royal Bahamian has diverted large groups of guests to other hotel properties as the resort continues to battle an outbreak of gastroenteritis, according to Health Minister Dr Duane Sands.
Dr Sands said the hotel is still investigating the outbreak, but told The Tribune yesterday the number of cases were decreasing on a daily basis.
"I don't know if Sandals is taking any guests at all but certainly they have had a number of large groups which have been diverted to other properties," said Dr Sands on Friday, during an interview with Eyewitness News, which reported there had been ten additional cases. "The interventions that have been used are expected, if effective, to show a decrease in the number of cases and so what is happening now is that new guests are now being accommodated at other facilities as opposed to at Sandals.
"In terms of looking at the water, looking at sewerage, looking at the kitchen, looking at the staff considering air-conditioning considering the pools, Jacuzzi etc."
Yesterday, Dr Sands said it was important to differentiate between isolated symptoms and a confirmed case linked to the outbreak.
"I don't know what the total number is," he said, "certainly the numbers are decreasing on a daily basis and if you look at the syndromic definition where you have to have all characteristics that define a case, then the numbers are even less.
"While we are not happy that the problem is by any means gone, certainly I'm gratified that compared to last week and over the weekend things are moving in the right direction. What I'd like to see is nobody with any symptoms but we're certainly not there yet."
Last week, Tourism Minister Dionisio D'Aguilar praised the "excellent" mitigation plan implemented by Sandals Royal Bahamian in the wake of reports the illness has affected nearly 100 of the all-inclusive resort's guests and staff.
Speaking to reporters outside of Cabinet, Mr D'Aguilar said the owners and senior executives of the resort are abreast of the situation and developed a mitigation strategy after eight cases were reported initially.
The tourism minister added outbreaks "will happen from time to time" and said he was "impressed" with the way the executives handled the situation.
He also claimed the number of incidents has declined significantly.
The Ministry of Health was notified of the Sandals' issue on August 7, according to a statement it released last Monday.
Since then, teams from the Ministry of Health and Department of Environmental Health have made "multiple visits" to the property.
These teams "can report that recommended prevention and control measures have been or are being implemented by hotel management," the statement continued.
"These interventions are consistent with local and international guidelines."
It added many of the cases of gastrointestinal illness were treated by the hotel's healthcare providers and people who required medical attention at local hospitals have been treated and released.