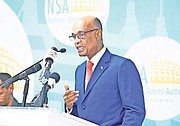 By MORGAN ADDERLEY
Tribune Staff Reporter
madderley@tribunemedia.net
EDUCATION Minister Jeff Lloyd yesterday reiterated that it is against policy and prohibited by law for educators to deny students' entry into schools based on their ethnic background or nationality.
He added he had no "proof" this was occurring, but had heard some rumours.
Mr Lloyd made these comments while delivering remarks at the Public School Administrators Conclave 2018, held at the Melia resort.
"Do you know the Education Act? You should know it like the back of your hand," Mr Lloyd said.
"If you do, you wouldn't in some instances, as I am told, I have no proof of this until they bring it. They keep saying it's so, I'd like to see it.
"But you have no right to deny anybody entrance, admission into our school system based on any status of your mind. It's not the law. It's not our policy."
Mr Lloyd said the requirements for entry include identifiers such as an address and information about parents or guardians-- not citizenship.
"You're required to know who they are -- so they got to bring some documentation. You're required to know where they live. And you're required to know who their parents are. That's that. And whether they come from this ethnic or national group, it's not your requirement and your responsibility."
Last week, human rights group Rights Bahamas (RB) alleged "certain public schools" continued to demand proof of status from students seeking to register.
In September 2017, Immigration Minister Brent Symonette said no child should be denied education because of their status or due to an "apparent immigration issue".
He indicated resources have been allocated in his ministry to handle all applications in the process of equipping school age children with the adequate permits needed to enrol and attend school.
"Principals should admit these students to school so that they can maintain their education," he told The Tribune on September 24.
"If there is a difficulty getting a belonger's permit or whatever permit it is that they need, the administrators should email me so that we can regularise those persons' status, so that they can attend school.
"But children should not be denied access to education because of an apparent immigration issue," Mr Symonette added. "We are making sure that persons who apply, receive the appropriate belonger's permit so that they can attend school.
"There is a department that deals with this issue specifically. I am being made to believe that we are doing a very good job at it, but if persons have slipped through the cracks, we urge them to contact the Immigration Department and/or myself."
In 2015, while out of office, Mr Symonette warned that making it harder for children of immigrants to get an education could create a slippery slope that results in a myriad of long-term social problems for Bahamians. He was appointed minister of immigration after the 2017 general election, a post he held in the previous Ingraham administration.