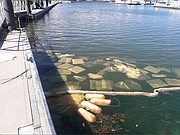 By MORGAN ADDERLEY
Tribune Staff Reporter
madderley@tribunemedia.net
THE impact from the diesel fuel leak in Exuma over the weekend is going to be "small", Bahamas National Trust Executive Director Eric Carey estimated yesterday.
In an interview with The Tribune, Mr Carey said while the accident had the potential to be a "real tragedy," because diesel is a "light" fuel, it is likely to evaporate before it has any effect on the Exuma Cays Land and Sea Park (ECLSP), a protected marine area.
However, he added those working with fuel near sensitive environments should exercise extreme caution.
On Monday, port officials in George Town, Exuma reported a diesel leak occurred at the Emerald Bay Marina, located in Farmers Hill, Exuma.
A diesel fuel storage tank line managed by Sun Oil sprung a leak on Sunday, resulting in approximately 3,600 to 3,800 gallons of diesel fuel escaping into the waters of the marina.
Containment booms were placed to prevent any further impact on the neighbouring environment or marine life.
"Fuel or any pollutant that spills into the marine environment is of concern… Diesel is a fairly light fuel, so it would likely evaporate long before it would reach the (ECLSP)," Mr Carey said.
"(The marina is) far enough away from the Exuma park, and due to the fact that diesel is light, it breaks up and evaporates quicker than say a heavy fuel oil, that it would likely not have a significant negative impact on the (ECLSP).''
When asked if he had any suggestions for how such incidents could be prevented in the future, Mr Carey suggested more caution.
"Folks that are operating fuel near to sensitive environments, whether they are marine (environments) or blue holes or other wetlands, should certainly exercise a lot of care (and) extreme caution.
"Because if this would have been a more dangerous chemical, then, of course, you could have had more impact. At the site of the spill there probably would be animals that are impacted, and some would die.
"But generally…. this could've been a real tragedy…we could have had more of an impact, more than just the localised impact that will probably result from this diesel spill."
Mr Carey also said the volume of the spill plays a role in the effect it had, as well as a quick response time.
"Relatively speaking, that impact is going to be small. If the volume was larger, then it's a bigger issue. Fortunately, it is in a marina, so that if the spill containment booms…were put in place early enough where they could stop a lot of it from actually getting out to open sea -- you know, if they were able to block the marina mouth as an example, or to isolate it otherwise, then a lot of it could actually be recovered without getting out into the open ocean. Thereby limiting impact to a very small area, and certainly preventing it from going further."