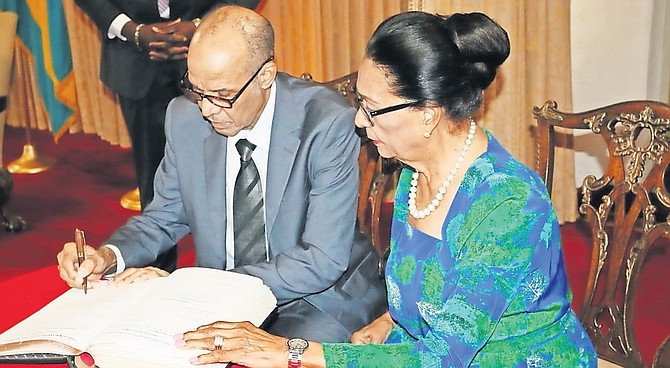 By RICARDO WELLS
Tribune Staff Reporter
rwells@tribunemedia.net
TRIBUTES poured in for Chief Justice Stephen Isaacs, 63, who died on Friday just two weeks after he was formally sworn in to the post.
Progressive Liberal Party Leader Philip Davis described his death as a cruel irony.
Mr Davis said Isaacs was a "good Bahamian," who had done his best to administer the law without fear or favour.
"His life was not easy," Mr Davis said in a statement. "He rose up from difficult personal circumstances to reach the top of his profession. It is often one of the cruel ironies of this life that just as you reach the top, the final curtain is drawn."
Said Mr Davis: "Our last conversation at his swearing-in touched upon that which is the richness of the human experience - that which is passed on from one life to the other. In this context, Chief Justice Isaacs' life of overcoming the difficult personal circumstances will be the hallmark of his legacy.
"It illustrates that those unfortunate personal circumstances do not define who you are, but rather they reveal who you are by the way you respond to those circumstances. The proverb says 'seven times you fall, eight times you get up.'
"On behalf of the PLP, my wife Ann, our Deputy Leader Chester Cooper, our Chairman Senator Fred Mitchell and the entire party, I offer sincere condolences to his family."
Chief Justice Isaacs, according to a statement released by the government, was called to the Bahamas Bar in 1982 and started his judicial career some 12 years later in 1994 when he was appointed assistant registrar of the Supreme Court.
Throughout his career, he also served as registrar of the Court of Appeal, and on the Industrial Tribunal, before being appointed to the higher judiciary as a Supreme Court justice in September 2002 when he assumed office as an acting justice of the Supreme Court and was stationed in Freeport, Grand Bahama.
In 2015, he was promoted to the rank of a senior justice of the Supreme Court, and appointed acting chief justice in December 2017.
He was confirmed to the substantive post in July this year and was sworn in just two weeks before his death.
Chief Justice Isaacs is survived by his children Stephen Jr and Capri.
In a social media post on Friday, Englerston MP Glenys Hanna Martin expressed a great level of sadness and issued a plea for the country to "embrace" its brightest and best.
"Condolences to the children and family of Chief Justice Stephen Isaacs," she wrote. "I am so saddened by his demise. I am longing for the day in the Bahamas when we will willingly embrace our bright and talented sons and daughters without the petty politics."
Democratic National Alliance Deputy Leader Arinthia Komolafe also expressed sadness over the loss, contending the country was looking forward to the years of "distinguished service" by Chief Justice Isaacs.
"It was only a few weeks ago that the late chief justice was confirmed in his substantive post. Bahamians had looked forward to more years of distinguished service by this luminary and true patriot," her statement read.
"Unfortunately, this was not to be and we have lost a brilliant jurist who contributed enormously to the development of the legal profession in the Bahamas.
"Members of the legal fraternity will remember him as a respected gentleman who left an indelible mark on the judiciary and on our jurisprudence. A grateful nation salutes him for his service and dedication over the years.
"On behalf of the Democratic National Alliance, we offer our deepest condolences to the family, friends and colleagues of Chief justice Stephen Isaacs. Our thoughts and prayers are with them during this difficult time," she added.