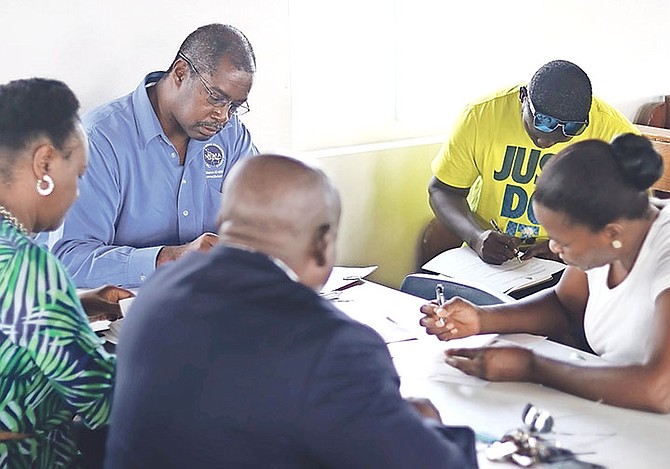 WEEKS ahead of the one year anniversary of Hurricane Irma, which devastated Ragged Island, the National Emergency Management Agency issued more than $70,000 in financial assistance to affected residents. 
According to a press release, NEMA director Captain Stephen Russell was accompanied by assistant accountant at NEMA, Eva Lightbourn, and Family Island Administrator for Exuma and Ragged Island Preston Cunningham.
Captain Russell and his team made the visit on Friday to issue cheques on behalf of the government. The financial aid was based on assessments carried out by technical teams of the former National Recovery and Reconstruction Unit, NEMA said.
Following the assessments, 18 households were approved for assistance and received a maximum of $4,000 per household to further assist with post Hurricane Irma recovery efforts.
During the assessments, it was also discovered that approximately 45 percent of the houses affected were not built in accordance with the Bahamas' building code, NEMA reported.
Captain Russell reminded members of the Ragged Island District Council that they must ensure what is being constructed on the island is built in accordance with legal standards, NEMA said.  
Last September, Hurricane Irma reduced most structures on Ragged Island to piles of rubble leaving the island unlivable, according to Prime Minister Dr Hubert Minnis. 
In May, frustrated Ragged Islanders demanded the government prioritise critical restoration initiatives as protracted delays had handicapped local efforts to rebuild and restore normalcy to the hurricane-ravaged island.
At the time, the island's association claimed attempts to rebuild were stalled by the scarcity of potable water and health services.
"They're talking about making it a green island, which is fine," said Donovan Moxey in May, a member of the group's technical planning committee.
"They've done studies to determine what it will take. But that's about 12 to 18 to 24 months away, people need to live now. That's great you want to make this a green island but people aren't going to leave and come back, that's not going to work. Get people back to a certain level of sustainable life."