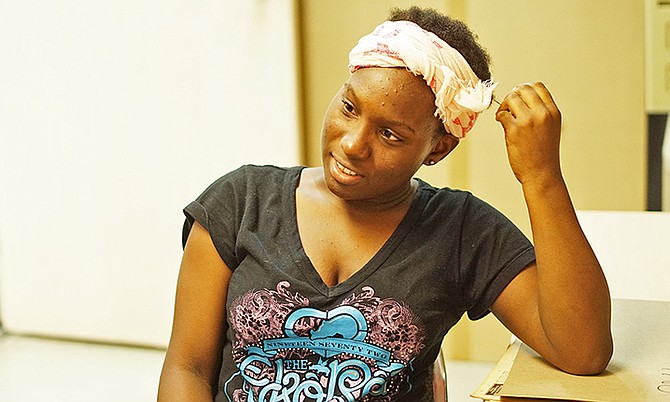 By AVA TURNQUEST
Tribune Chief Reporter
aturnquest@tribunemedia.net
SICK, stateless teen Taranique Thurston is still in limbo as her family struggles to secure funding to treat her life-threatening brain cyst.
Her mother, 34-year-old Ginette Caty, yesterday said the lack of funding has presented a roadblock to efforts to obtain an American travel visa.
The teen has secured funding to cover travel costs and an initial consultation at Jacksonville Memorial Hospital from a private donor; however, Ms Caty said she won't know how much medical treatment will cost or how long her daughter will need to stay in the US until after that assessment.
Taranique celebrated her 16th birthday on Friday and was issued a certificate of identity earlier this month, which lists her nationality as Haitian.
However, it remains unclear whether she will be able to obtain a US visa for the document.
Taranique's consultation at Jacksonville Memorial Hospital is slated for September 18 - a date that has been pushed back twice due to her inability to travel.
On Friday, Ms Caty said she was told by an official from the Ministry of Foreign Affairs that she could not proceed with her visa application until she secured funding for airfare.
Up to press time, she said she had received no response to her calls to update the ministry.
A Cabinet statement earlier this month stated: "The Ministry of Foreign Affairs is looking into the provision of a certificate of identity for Taranique Thurston in accordance with established policy." The statement also said it had made no offer or promise to pay the teen's bills.
The ministry has not responded to requests for further details, nor has the Haitian Embassy.
Ms Caty was naturalised as a Bahamian citizen in 2013 - more than a decade after she had applied at the required age of 18. Taranique was born before her mother got her Bahamian citizenship, and is currently registered in the Bahamas as a non-Bahamian born to a foreign mother and Bahamian father, who are unmarried.
Despite the government's designation of Taranique as Haitian, it is unclear whether she has any claim to Haitian citizenship.
According to the Haitian constitution (Article 11), "any person born of a Haitian father or Haitian mother who are themselves native-born Haitians and have never renounced their nationality possesses Haitian nationality at the time of birth."
However, this entitlement is not extended to second or third generation descendants whose parents were not themselves native-born Haitians.
Ms Caty was reportedly born in the Bahamas to a Mexican mother and a Haitian father - and would have renounced any claim to Haitian citizenship when she was naturalised.