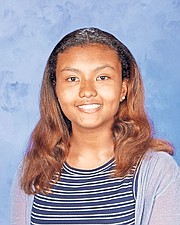 "Gifted, determined and with an indomitable spirit to excel against all odds" is how her loved ones describe Hezrona Moxyz-Currie, who overcame life-threatening medical issues to become somewhat of an academic prodigy.
Despite the serious health challenges she has faced in her young life, including acute liver failure, this 13-year-old – who is working hard towards becoming a lawyer – has consistently demonstrated a strong desire to succeed and make a positive difference in her community.
Now, she has been recognised by the US' National Society of High School Scholars (NSHSS) organisation for her superior academic achievements and her commitment to leadership, scholarship and community. The recognition is usually awarded to students in the US who rank among the top 10 per cent in their schools and maintain a minimum 3.5 GPA.
Her mother, D Earnestine Moxyz, said Hezrona has always been a brilliant little girl, who began reading at age three.
"I did not think anything of it as I'm sure every parent think their child/children are beautiful and smart. It wasn't until a family member brought it to my attention, telling me that Hezrona could do everything that my five-year-old daughter at Queens College can, and that I should have her tested. So when she turned four, I took her to Sunland Baptist Academy in Freeport where she was tested for grade one. She not only breezed through the exam, she did so perfectly. The principal, who was reluctant to admit her into grade one because of her age, said 'OK, naturally this is where she needs to be, so we will make an exception and put her in grade one'. She has been excelling ever since," said Ms Moxyz.
However, the joy over Hezrona's extraordinary academic achievements was soon marred by serious health concerns. In 2012, while still in primary school, Hezrona suffered acute liver failure. She was transferred from Nassau to Jackson Memorial Hospital in Miami, Florida. There, she became comatose.
Ms Moxyz said doctors gave her daughter only days, if not hours, to live unless she received a liver transplant. Due to the urgency of her situation, she was placed in the number one slot in Florida for an organ transplants.
A match was found in Jacksonville, Florida, and after more than 14 gruelling hours of surgery, on May 7, 2012, she received her transplant.
"The road has not been easy, but oh so rewarding...Hezrona has been hospitalised a few times since then, with threats of organ rejection. Making doctor visits have become routine for her and is part of the journey she has accepted. There are days she lies in severe pain, unable to move her body from the bed. Nonetheless, she has an indomitable spirit, thirst for knowledge and is dedicated to excelling and making a positive difference in her community. Failure is not an option for her and mediocrity does not exist in her shared space. She has a God-given purpose, and much more work left to do. She seeks to serve her country and make necessary, historic legislative changes," said Ms Moxyz.
Now a 10th grade student who attends Fort Lauderdale High School – an A+ rated, pre-law and public affairs magnet school – Hezrona's academic achievements and community advocacy have officially been recognised by the NSHSS.
Hezrona, who has a current weighted 5.2 GPA, is a pre-law, Cambridge International magnet student participating in the Advance International Certificate of Education (AICE) diploma programme. All of her classes are advanced; her peers are 16 years and over, and in her college classes they are with 12 graders ages 17 and 18, but she is a tutor for many of her classes. The AICE diploma is the highest and most prestigious designation awarded to students at graduation, and affords them career and academic opportunities to receive the nation's top scholarships at prestigious Ivy League colleges and universities.
A former student of Temple Christian Primary School in Nassau and Sawgrass Springs Elementary in Coral Springs, Hezrona has received numerous awards including the President's Education Award for Excellence. She is also a certified Microsoft Office specialist and math tutor, who has already successfully completed two Cambridge college classes, has competed against hundreds of US students at the 2017 National Speech and Debate Tournament in Birmingham, Alabama, and is also a member of her school's environmental club, mock trial, debate team, Bloom, National English Honours Society and National Honours Society clubs.