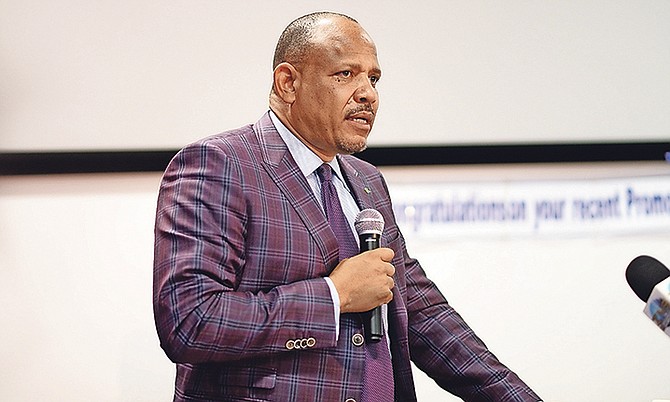 By AVA TURNQUEST
Tribune Chief Reporter
aturnquest@tribunemedia.net
HEALTH Minister Duane Sands said yesterday his ministry has made significant headway on nursing concerns, particularly on outstanding payments.
However, it remains unclear whether its most contentious point of dispute over changes to the nurses' shift system has been resolved.
Sources close to the matter said the union has one more meeting with Prime Minister Dr Hubert Minnis in hopes of settling outstanding issues.
Dr Sands said: "I believe there is a tremendous amount of satisfaction in terms of the arrears. There are still some outstanding payments that have not yet been made, but certainly with pay day this month, we believe that things will be a bit better.
"I would hate to be premature and to say that we expect that the nursing leadership will be happy or satisfied.
"What I can say is my ministry, my permanent secretary and her team have done all in their power to ensure that the ministry has done what it's supposed to do."
The Ministry of Health had previously said all outstanding payment matters related to the union have been addressed. The nurses had raised 14 issues that have been "amicably resolved," according to a ministry press release earlier this month.
Yesterday, Dr Sands said he could not confirm the total amount owed to nurses, adding instructions sent by his ministry to the Treasury Department don't automatically effect payment.
"It really depends what has actually made it on to the pay sheet for August and I wouldn't have that information," he said.
"When we send instructions or clearance over to the Treasury from our Finance Department, it doesn't necessarily mean that what we send over is going to be on that pay sheet. That's a decision that's entirely at the discretion of the Ministry of Finance and the Treasury of the Commonwealth of The Bahamas, so we have to wait and see.
"The nurses' union would have met in office with the permanent secretary. We have made significant headway in the appointment of the recently graduated registered nurses, certainly at the Public Hospitals Authority (PHA) and we are just about concluded with the appointments of the new registered nurses at the Department of Public Health."
Yesterday, Bahamas Nurses Union President Amancha Williams declined comment.
The PHA says the move to implement a change in nurses' shift from 'four-on/four-off' to 'five-on/two-off', would increase the number of nurses on duty, reduce the number of hours nurses could work in a day and reduce prospects for accidents and errors. Some government officials also privately acknowledged to The Tribune the move would cut down overtime pay for nurses.
The BNU has claimed the shift will cause burnout.
The nurses took a strike vote on June 7 but the Department of Labour declared that poll null and void, saying ballots were not delivered to Inagua, Mayaguana and San Salvador. Scoffing at this, the BNU has noted those three islands have two nurses each whereas 377 nurses around the country voted in favour of a strike.
Earlier this month, Ms Williams said the union won't consider holding another strike vote until Dr Minnis has reported back to them.