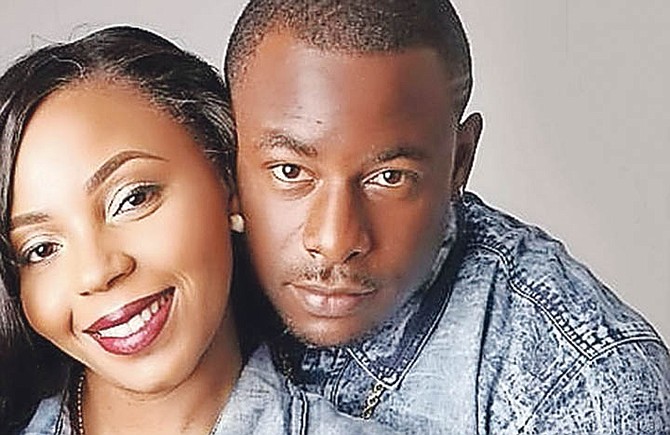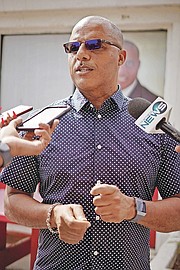 By RICARDO WELLS 
Tribune Staff Reporter
rwells@tribunemedia.net
POLICE have a "fair idea" who was responsible for Monday's brazen double homicide at the Sandilands Rehabilitation Centre in Fox Hill and will "bring them to justice," according to National Security Minister Marvin Dames.
In an interview with reporters yesterday on the sidelines of a Department of Correctional Services parole symposium, Mr Dames also said serious offences like murder do give him cause for concern, asserting that in every case of a reported homicide he's "sick to my stomach".
He added: "But it's incidents like these ones that give you cause for pause and concern."
Neil Deveaux, 33, and his fiancée, Ashlee Hilton, 30 were ambushed as they attempted to leave Sandilands on Monday morning following a therapy session.
Deveaux was said to be undergoing physical therapy treatment at the facility following a recent shooting several months ago.
Chief Superintendent Solomon Cash said police suspected the couple was targeted by persons in search of Deveaux.
CSP Cash also confirmed Deveaux was known to police, referring to him as "one of our prolific offenders."
Addressing this aspect of the case yesterday, the Mount Moriah MP said: "We will find those persons responsible and we will bring them to justice. We have a fair idea as to who we may be dealing with, and these are persons that are in the system already.
"But, if you can recall, I think it was (a few months) ago, this same individual was shot and during that time, did not offer much information to police as to how he came about his injuries.
"Whether these two matters are connected, it is too early to make those determinations.
"But what I will say is this, the police have made tremendous progress over 2018. There is still a lot of work to do and they will be relentless; as relentless as need be until these individuals are taken into custody.
"And, we want to make it very clear, that this is not the kind of behaviour that we are going to accept in this country anymore, and we will continue to press for the remainder of 2018 and into 2019, to ensure that all of those young men in particular, who are engaging in this kind of activities, will be brought to justice."
Mr Dames insisted that a comparative analysis of crime statistics of recent years would support his claims that the detection rate has improved significantly.
However, he maintained his office would not celebrate this reality until circumstances like the one that played out Monday are considered non-existent.
Mr Dames said: "And what I mean by that is, we are not going to allow in this country, persons to take the law into their own hands and decide who lives or dies."
Reflecting on current crime statistics and what they should represent in law enforcement's efforts to address pressing trends, he added: "I believe that at this time last year I think we were over 100 (homicides) and the figures to date, I think it is 81. While that is significantly lower than last year, I am still not satisfied. I am certain if you ask police, they are not as well."
Mr Dames said the downward trend of serious offences such as murder marks a start.
He maintained that moving into 2019, as aspects of his office's policing strategy are rolled out, there will be a greater push to lower those numbers even further.
Meanwhile, addressing security measures at Sandilands, Mr Dames said his ministry is prepared to work with the Ministry of Health to determine what can be done to improve systems at the facility.
Health Minister Dr Sands on Monday said the security and surveillance protocols in place at the facility would be reviewed in the wake of Monday's incident.
Mr Dames said his office is "always open to do and to make recommendations when necessary."