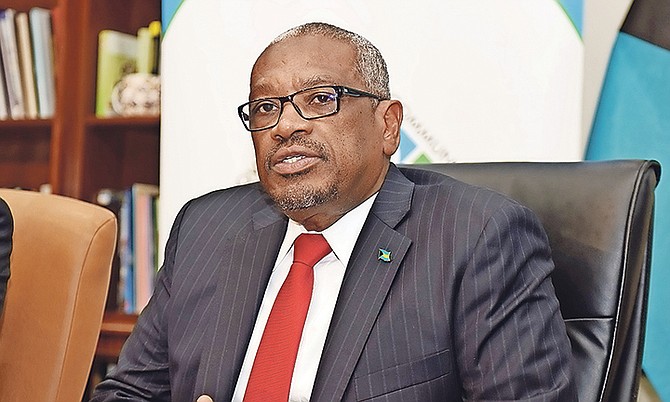 By KHRISNA RUSSELL
Deputy Chief Reporter
krussell@tribunemedia.net
PRIME Minister Dr Hubert Minnis is convinced Bahamians are no longer fearful of crime under his administration as was the case in years past, adding yesterday he was pleased with the accomplishments authorities have achieved in a short timeframe.
Two days after the second double homicide this week occurred, Dr Minnis contended one murder is still too much, but said the general feeling of fear, which existed before has "relaxed".
He was responding to a question from The Tribune, which drew his attention to fear Bahamians say they feel in the aftermath of the killings.
Dr Minnis also repeated he remains an advocate for capital punishment by way of hanging as a deterrent to crime. However, he said he remains confined by Bahamian law. Hanging is on the law books for murder, however rulings from the London-based Privy Council have made it hard for the punishment to be carried out.The last hanging took place in 2000.
Of these week's murders Dr Minnis said: "The police are investigating those matters. My understanding is that they have leads and whatever.
"But they're doing what they are supposed to and I am convinced that the police will do what they possibly can. However when you look at what they are doing compared with the past, murder is down by over 36 percent which is quite a great accomplishment in such a short time. These two murders would have taken it up to 82, 83, but still it's been years since the Bahamas has been less than 100."
Earlier this week, press liaison officer, Superintendent Shanta Knowles said the murder count stood at 86; however she clarified yesterday that she misspoke and the actual count was 83 up to press time. There were 118 murders this time last year, according to The Tribune's records. This represents a decrease of 30 percent according to The Tribune's calculations.
He continued: "But one murder is still too much and the police are working aggressively. I cannot discuss their strategic plans going forward, but they are working aggressively to ensure that Bahamians are safe.
"Now when you talk to the average Bahamian yesteryear, there was great fear of crime. They were fearful of coming out of their homes, fearful of driving around etc. That fear has been relaxed. They're no longer fearful of crime. They're no longer fearful of going to shopping centres, environments etc and we will even decrease that even further.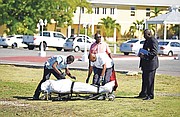 "So I am greatly pleased an encouraged by what the police is doing."
His statements came after two men, one of whom was being electronically monitored by police, were found shot to death in Jubilee Gardens early Wednesday morning in a car with its motor still running. The men were reportedly cousins.
According to police, gunshots were reported in the Jubilee Gardens community sometime after 11.45pm on Tuesday.
Responding officers later discovered the bodies of two men with injuries in a car parked in the driveway of a residence in that neighbourhood.
EMS personnel were called to the scene to give assistance, but were unsuccessful in reviving the two men. They were pronounced dead at the scene a short time later.
The homicides came a day after a man and his fiancée had been shot dead during a morning ambush at Sandilands Rehabilitation Centre on Monday.
On Wednesday RBPF press liaison officer, Superintendent Shanta Knowles said while police were still looking for leads, they had no evidence to connect the two incidents.
She added that police were actively working both cases and "hoping that as quickly as possible, we can resolve them."