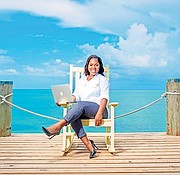 By JEFFARAH GIBSON
Tribune Features Writer
jgibson@tribunemedia.net
ONE of the first things on the agenda for Terrenique Bastian when 2019 rolls in is to help aspiring authors get their creative juices flowing so they can finally publish books they have not been able to finish or even start to write.
Terrenique, a travel enthusiast and writing coach, said with only 21 more days left in the year, people will be committing to new goals. And she is hoping to inspire writers who haven't been able to put pen to paper to make finishing their book a resolution for the new year.
To this end, Terrenique is hosting "The Sweet Escape", a retreat that will take place January 22 - 27, 2019.
"It is a time where aspiring authors will have a chance to escape and allow their imaginations to flow," she said. Six creatives will have the opportunity to join us for a six-day, five-night stay at one of the island's finest resorts," she said.
The retreat, she noted, is geared towards aspiring authors that wish to write and publish a book.
There will be pre- and post- retreat consultations, island tours and excursions, homework assignments and writing challenges, master classes on how to write a book, along with a time to network and fellowship with other authors and aspiring authors.
"This retreat was inspired by the beautiful islands of the Bahamas, a premier island destination and the perfect place to escape and create," said Terrenique.
Having met many people whose stories she believes need to be told, Terrenique said she now wants to help others find their inner voices and share them with the world.
"I saw the need to help people tell their stories. I've come in contact with many people that have soul-stirring stories and wish to share them with the world but don't know how to start," she said.
"I am super excited to blend my knowledge of the tourism industry and literary arts together to host these dynamic Bahamian retreats. Our first retreat, under the theme 'Compose in Paradise', was held this past November and it was a total success. The attendees left changed, inspired and challenged to maximise their greatest potential and complete their writing projects.
"Our mission is to inspire and engage our attendees to explore the wonders of the Bahamas and provide a tranquil environment for creatives to execute."
Terrenique has travelled to New York, Los Angles, Greece and London, connecting with other writers and helping creatives bring their vision to life.
She holds a Bachelor's of Science in Tourism and Hospitality. She also studied at the New York University where she received an advanced diploma in fact checking, proofreading and copy editing. She is passionate about spotlighting her country and is excited about bringing creatives together to relax, escape and create.
"It is my goal to ensure that the attendees to meet new friends in the industry and get the tools they need in order to be successful in their writing and publishing journey," she said.
For more information about the retreat, visit ipromisemedia.com or e-mail daretocreateretreat@gmail.com.