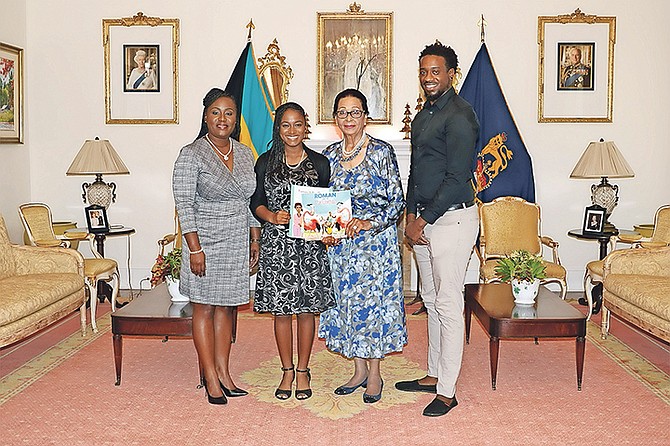 It is not every day that a 10th grader gets to pay an intimate courtesy call on the person who holds the highest office in the land, but then again, teen author Sierra Blair isn't your average high schooler.
The Kingsway Academy sophomore was granted an audience with Governor General Dame Marguerite Pindling just days after releasing her second book, "Roman and The Pink Flamingos" at Atlantis and the Ardastra Gardens, Zoo and Conservation Centre.
During the 20-minute visit to Government House, 14-year-old Sierra presented her two books to the Governor General in a meeting that left an indelible impression.
"To speak with Her Excellency, someone I had only read about in social studies textbooks, and to have her be interested in what I had to say was amazing. I saw a genuine love for the young people of this nation and that touched me, that she would actually take time out of her schedule to not only meet with me, but also inspire me," said teen who was greeted warmly by the Queen's representative with a squeeze of the hand, and later, an embrace upon her departure.
During the courtesy call, Dame Marguerite inquired about the new book and creative process involved in bringing the series to life. She urged Sierra to not only continue writing children's fiction, but to one day delve deeper into the fabric of the nation by documenting what she observes.
She noted that during her formative years, young people Sierra's age were often forced to leave school.
Bahamian law only required children to remain in school up to age 14, until 1996 when an amendment to the Education Act raised the school-leaving age to 16.
"These students never had an amazing opportunity to become a published author at such a young age," said Dame Marguerite, who shared stories of her own humble beginnings. "Imagine what they could have become if they were allowed to stay in school."
The young author grabbed the media spotlight last year after launching her first book on Amazon, where it is available in paperback and as an e-book. Sierra's books are aimed at teaching the concept of boundaries to children six and under. Her first book, "Roman & His Mean Family", is a 25-page picture book which sees the precocious Roman labelling his family "mean" when he's refrained from circumventing boundaries set for his own protection.
The independently published and newest children's book, "Roman and The Pink Flamingos", is a colourfully illustrated tale of a pink flamingos encounter at a bird sanctuary. The children's book series is inspired by Sierra's three-year-old brother, Roman.
According to the Governor General, much has changed since her days spent working as a commercial photographer. Most notably, respect for the creative arts, including writing, photography and illustrations has grown, and these professions are becoming more recognised and appreciated, she said.
Sierra wasn't the only one to be moved by the visit.
"I felt deeply honoured to have the opportunity to meet and converse with the Governor General," said the book's illustrator Lamaro Smith, a 31-year-old native of Grand Bahama.
"It was a surreal experience to have such an influential public Bahamian figure discuss a project that I was a part of. She reassured me and encouraged me in my creative pursuits and commended me for being independent in my professional development. I deeply enjoyed our conversation," he said.