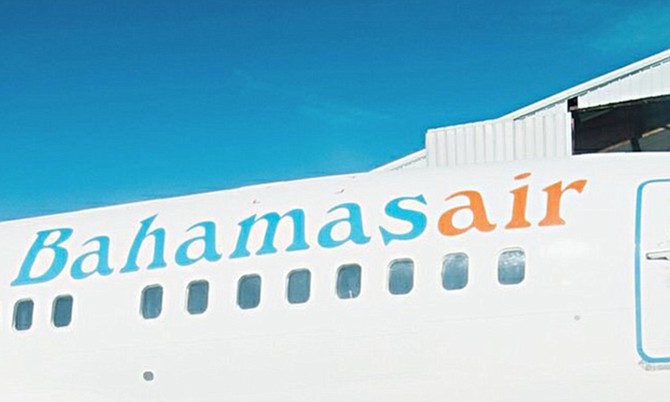 By Morgan Adderley
Tribune Staff Reporter
madderley@tribunemedia.net
BAHAMASAIR has issued its second apology in three days following yet another series of flight delays and cancellations for both international and domestic flights that have infuriated passengers this holiday season.
Many travellers have expressed their outrage at more than 12 hours of delays on social media, with some criticising the lack of communication from the airline and the fact that they were not issued vouchers or compensation for their inconvenience.

Bahamasair Managing Director Tracy Cooper yesterday outlined to The Tribune the series of factors that contributed to these issues, which ranged from poor weather conditions to a navigational failure at Lynden Pindling International Airport (LPIA).

Mr Cooper said the airline expected to be "back to normal" and "all caught up" by the end of Sunday. He also said those passengers who did not receive any vouchers should "present themselves" to the airline.

"If they present themselves and we were to see that we did not take care of any commitments, then we surely will," he said.

One Bahamian passenger, who wished to remain anonymous, told The Tribune yesterday that his flight from Freeport to Nassau was originally scheduled for 2pm Saturday. However, he and his family did not depart until approximately 2.15am Sunday.

"But, of course, you get to the airport by 1pm for a 2pm flight," he said. "So, 13 hours waiting without any consistent updates no (compensation)."
The irate passenger said every few hours the travellers were vaguely informed that the delays were due to power outages and bad weather in Florida.

"Though as time passed, I did hear that they were having issues with air traffic control," he added. "Also, those 13 hours we were in the airport, they didn't even offer us water. They didn't offer us anything at all.
"Because I was travelling with my family, some of us were able to go out and get food and bring it back. But some people sat in there by themselves, no voucher for flights, no voucher even for a meal for 13 hours.

"And not that their experience takes precedence (over locals), but tourists were there too."
The passenger added that upon landing in Nassau, more mismanagement awaited the tired travellers.

"When we landed, they sent us to immigration (because) they thought we were the flight out of Orlando. Then they had to scramble to get us back.

"Literally there were 30 people walking around unaccompanied on the tarmac at 3am in the morning," he said.
On Sunday, Bahamasair released a statement on these recent delays. This followed a previous statement issued by the airline on Friday regarding delays and cancellations that occurred earlier in the week, particularly on Thursday.
Mr Cooper told The Tribune that a "navigational failure" affected flights that continued to experience issues on Friday.

"(Friday) we had a navigational failure here at (LPIA)," he said. "It disrupted flights for a period of time as well, so we couldn't get flights out. And then yesterday (Saturday) we had heavy traffic from Air Traffic Control that (was) backing up flights to the tune of about anywhere between 30 minutes to about an hour.
"And all of this played around with our ability to do flights as we had them scheduled. We also had a situation with one of our jets that was out of service for a few days. I think it was Wednesday until Saturday or Friday night. And all of this compounded where really we couldn't be as aggressive as we wanted to be.
"As of this morning (Sunday) though, all of our passengers and our bags, with the exception that were in the…Ft Lauderdale Airport from last evening, all of those are in Nassau, on the international side," Mr Cooper continued.
"On the domestic side, we did have about three flights cancelled yesterday (Saturday), simply because of the Air Traffic back up. And we have taken care of two of those flights already, and one we will be doing (within) another hour.

"So pretty much by the end of this day we'll be back to normal, all caught up and operating for hopefully tomorrow as well."
When asked if he expects that these delays will continue throughout the holiday season, Mr Cooper said: "A few delays, but not the (long) delays we were experiencing."
In response to claims that persons did not receive lunch or travel compensation, Mr Cooper also said Bahamasair "always" provides vouchers.

"We always provide either lunch vouchers or food vouchers so that the passengers would have something to eat as well as some compensation for when the delays are extended beyond a certain time."
When asked if vouchers will be retroactively provided to those who did not receive them, Mr Cooper told The Tribune: "If they present themselves and we were to see that we did not take care of any commitments then we surely will."
In Sunday's statement, Bahamasair said all bags that were brought to the airline by midday Saturday are in the Bahamas.
"Those persons who would have checked bags for flights 206 and 208 out of Fort Lauderdale yesterday (Saturday), please know that those items are expected to be in Nassau this afternoon.

"For the record, due to the movement of a massive weather disturbance this past Thursday, Bahamasair was forced to cancel a number of domestic and international flights. The Miami, Orlando and Fort Lauderdale International airports were forced to close as well.

"As a result, we were unable to complete several rotations into the South Florida area. By the time the weather system had moved on, we were experiencing complications from a power failure that impacted the navigational system at (LPIA) which further impacted the airport traffic and backlog which ultimately forced further delays."
The statement added that recovery flights for Friday were compounded by the absence of one jet, which was being serviced for a technical issue and not available until Saturday morning. A third jet is receiving "heavy maintenance" in Costa Rica and not set to return "for the next several days."

"We had expected delivery of our new Boeing 737-700 NG this month, but due to its own heavy maintenance review it is not expected to arrive until mid-January," the statement continued.

"Again, as we sought to conduct recovery flights on Saturday, we were confronted with Air Traffic Control challenges at the Lynden Pindling Airport that caused massive delays to all carriers up to several hours.
"This ultimately impacted the arrival and departure of our baggage freighters, as priority was given to passenger aircraft. However, we have worked tirelessly to get the schedule back on track."