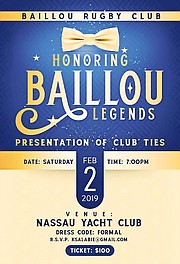 ONE of the oldest rugby clubs in the Bahamas is inviting all former players to come out and participate in the Baillou Rugby Club's Golden Oldies Touch Rugby Sevens Day.
The event is scheduled for Saturday, February 2 at the Winton Rugby Centre and will feature teams such as the visiting Freeport Rugby Club, Cuckoos, Buccaneers and Baillou. Immediately following the tournament, organiser Kevin Salabie said they will host a Baillou Legends Banquet at 7pm in the Nassau Yacht Club where they will honour a number of past players.
"I've been playing rugby for more than 20 years and we never had an event where we celebrate the older guys who played for the club," Salabie said.
"During the event, we will have an event where all the old guys who played more than 15-20 years ago to come out and play in a touch rugby tournament."
At the banquet, which costs about $100 per person, Salabie said they will honour a number of players, including Richard Lightbourne, Stephen Thompson, Pops Burrows, Adam Darville, Justice Jon Isaacs, Chris Leader and Robert Carron.
"We just basically want to tell them thanks for all they have done for our club," said Salabie, who serves as the vice chairman of Baillou.
Baillou, whose president is Peter Lunn, has been in existence for about 50 years. It is the second oldest rugby club in the Bahamas behind the Buccaneers. "Kevin did a really great job organising it to this point," Lunn said. "It's something that is really looked forward to for the older players to get out and play a game without having to worry about getting bruised up. "There are a whole lot of people who come out and watch rugby, who would like to get in a game every now and again and impact some of their history, knowledge and respect for the game that a lot of today's society, in general, are lacking."
Lunn said the tournament is open to everybody to participate.
"The Buccaneers have been around since about 1965 so they have a few players who can play and Baillou has been around for about 50 years, so we have a few players as well," Lunn said.
"The Cuckoos are a relatively new club, but they are coming with over 35 players who are eligible and Freeport has been around for about 50 years, so they are sending them some guys to participate in the game and the dinner as well."
Lunn said like most of the players, he too is looking to go out there and play as well because they all have a real love and passion for the game.
Persons interested in the tournament and for those wishing to attend the banquet, they are urged to email Kevin Salabie at ksalabie@gmail.com or Adam Darville at adarville@gmail.com.