By NEIL HARTNELL
Tribune Business Editor
nhartnell@tribunemedia.net
The Bahamas "is as close as it has ever been to sustainable National Health Insurance (NHI)" with the Cabinet now awaiting the final report on recent stakeholder consultations.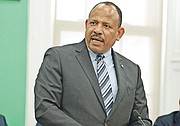 Dr Duane Sands, pictured, minister of health, told Tribune Business that "it shouldn't be too long" before the NHI Authority, chaired by Dr Robin Roberts, submits its report to the Minnis administration on the outcome of talks with healthcare professionals, the private sector, trade unions and Bahamian public.
Confirming that the consultation period had ended just prior to Christmas, Dr Sands said it was "all systems go" towards the next step in the Government's NHI plan, which is for the Cabinet to determine how, when and what form the scheme should take to achieve its healthcare objectives.
He also conceded there was merit to private sector and healthcare industry concerns as to how the NHI Authority had arrived at the $1,000 annual premium cost for the Standard Health Benefit (SHB), the scheme's minimum level of coverage, as it would be akin to "shooting in the dark" on costs without agreeing provider and facilities fees with doctors and others.
"I met with them a week-and-a-half ago, and they're pretty much wrapped up and writing their report," Dr Sands told this newspaper of the NHI Authority. "When they'll be completed with their report for Cabinet I can't say, but it shouldn't be too long.
"I think the most important thing is we get a real snapshot of the opinions of the many different stakeholders. Once we get that in black and white it will be very beneficial to the Cabinet of The Bahamas in terms of deciding how to proceed."
Dr Sands said the NHI Authority was "not too many standard deviations off the general timeframe" for the revised NHI scheme's roll-out that was outlined in its original 22-page policy document.
"I honestly think the process of reviewing the past NHI roll-out and execution, then determining what worked and didn't work, and looking at ways of sustainable approaches to NHI, presenting a proposal and getting general opinions from the public, good and bad, gets us as close as we've ever been to a sustainable NHI product," he told Tribune Business.
"I'm excited that we'll have an opportunity to dig into something that has many facets we've never seen before. We actually have a model in place, patients being seen and now an opportunity to see how we can deliver the NHI product people say they want.
"It's all systems go to the next step of the process; submitting to Cabinet, and the Cabinet of The Bahamas will look holistically at everything presented and make a decision about how, what and when to proceed. We now have a substantial body of evidence on which to base a decision."
Dr Sands was unable to say when the NHI Authority report will make it on to the agenda for Cabinet's consideration, but suggested it may involve a "face-to-face presentation" by Dr Roberts and his team.
Much of the NHI discussion to-date has focused on the proposed funding mechanism, which involves a National Insurance Board (NIB) payroll-type tax equivalent to either 2 percent of a worker's salary or a maximum of $500 per year ($42 per month) - whichever is greater.
The Bahamas Chamber of Commerce and Employers Confederation (BCCEC), in particular, has warned that such a mechanism will further increase the private sector's labour costs at a time when companies and consumers are both struggling to absorb the Budget's VAT hike to 12 percent.
And the Chamber, as well as the Bahamas Insurance Association (BIA), have expressed concern that the $1,000 pricing for NHI's SHB package may well underestimate the true costs - especially given that the Government wants to expand the benefits package beyond the existing primary care to also include secondary care.
The Chamber is particularly worried that failing to accurately calculate NHI's costs will lead to ever-increasing tax demands being placed on the private sector to cover the financing gap and sustain the scheme. Together with the BIA, it has pointed out that it is impossible to predict NHI's costs given that no fee structure has been agreed with doctors, providers and healthcare facilities.
Dr Sands, though, said NHI's financing mechanism was not set in stone while conceding that an agreement on fees was essential. "I think the Prime Minister has made it very clear in his direct utterances that no final decision has been made by the Cabinet of The Bahamas on how any NHI programme will be funded," he told Tribune Business.
"You're going to have to have enforceable agreements for healthcare providers, facilities, diagnostic facilities otherwise you're shooting in the dark."
Dr Sands praised the "level of enthusiasm and commitment" with which the NHI Authority had conducted its work, adding that it had addressed the legacy issues left behind by the former Christie administration.
"They've dealt with the legal and legislative challenges in the roll-out of NHI in the absence of the Authority, and they've dealt with legacy decisions made, continued to provide benefits and expand the patient pool," he added.
"They've determined the primary care component is hugely popular, and made good progress in establishing an IT framework that functions at a level and cost that is not prohibitive."