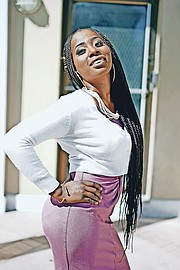 By ALESHA CADET
Tribune Features Reporter
acadet@tribunemedia.net
FOLLOWING the rise to fame by people like the 'Cash Me Outside' girl and the BBC dad who got interrupted by his kids, the Bahamas now has its very own viral video star in Hendera Rolle, known as 'Boss Lady Florida'.
Hendera quickly became the talk of the town last week when a video of her surfaced on the internet in which she seemingly made the mistake of not knowing that Miami was located in the state of Florida.
After being made fun of by thousands of Bahamians following this humorous gaffe, she decided to "turn it around, baby" by using her sudden media exposure for good.
The 21-year-old may not have sought fame, but now that she has found a some measure of it she is certain it will open doors for her and provide her with opportunities to follow her dreams of becoming an entrepreneur, helping others, and hopefully putting an end to cyber bullying.
In the viral selfie video, Hendera, like many Bahamians when travelling, was making a visual record her weekend trip. She repeatedly said the word "Florida" to indicate where she was, and followed it up with the now famous statement, "Broke people go Miami, I in Florida."
Another video surfaced shortly afterwards where Hendera could be seen enjoying herself in a shopping mall, proclaiming: "Boss lady making boss moves. Make that U-turn baby."
Bahamians were quick to take to social media with memes and mock videos.
The sudden, unexpected attention took Hendera completely by surprise, who said she filmed the videos last December.
She told Tribune Woman that she wants to thank God that the situation did not break her "uplifting spirit and humorous personality".
"What made me who I am today is the favour of God. I thank the Lord so much for giving me the spirit of boldness. I reached a point in life where nothing bothers me; nothing gets to me. I know who I am. I know who I want to be, and I know where I come from. Some ask if it was my first time travelling, and no, it wasn't my first time. I was just having fun; mistakes happen. I went shopping, we drove around. I went to popular restaurants. I didn't post everything on social media," she said.
Now, she said, it is important for her to remain focused on her long-term goals, as she has someone that looks up to her and calls her "Mommy" – her four-year-old daughter Labri Noel.
"The people that downgraded and bashed me, I want to let everyone know that hey, do not judge a person by their appearance. The enemy was fighting me so hard because it is clear that nothing bothers or gets to me. I know that he who kneels before God can stand before anyone, and God is with me. He said every where that I go there will be favour. He said people want to meet me, my name is out there, and young women will look up to me to end this cyber bullying," she said.
"When I said 'spin me around baby, let me make a U-turn', this is that turn-around that God had for me."
It is Hendera's intention to take this opportunity to truly make "boss moves" by launching merchandise for the Summer and Winter seasons, as well as a local foundation in her name.
The clothing pieces will have her now popular phrases "Turn it around baby" and "Boss lady making boss moves" printed on them.
"There were persons behind fake accounts that made negative jokes, but I want persons to know that everyone who tried to destroy me, they had me for a stupid person, but hey, I swallowed all of that up and moved on. I have a sense of humour and it didn't even bother me at all," she said.
"I made a video on social media where went on a live chat to say 'my crying days are over', but the screenshot of that video that surfaced only showed a shot of my emotional state. But I want people to know the stones that were thrown at me were used to build a foundation, and this is just the beginning."
Hendera said she is thankful to her pastor, family members, local businesses, her daughter's father, and her cousin Andril for supporting her.
She also attracted the attention of the telecommunications company ALIV, who made contact with her to promote their "Made the Switch" campaign.
"I was speechless after I saw an ALIV painting of myself. I didn't even really understand what was going on until I understood that this was God and He is real. In these times I would say to young women, do not let nothing get to you, always be the bigger person and believe and trust in you. Take your mind off of the world and focus on God so that you can see that God is real. I want them to uplift themselves as I did myself," said Hendera.
"I am a changed woman, because a woman who walks with God will always reach her destination. Even for those persons who mocked me, I want to say that I am a shoulder for them to lean on in times of trouble. I will soon be writing cheques to the poor and people in need. When I start to travel I will never forget God. I want to meet with people, and 2018 is my year, and the cyber bullying will end. There will be favour everywhere I go."