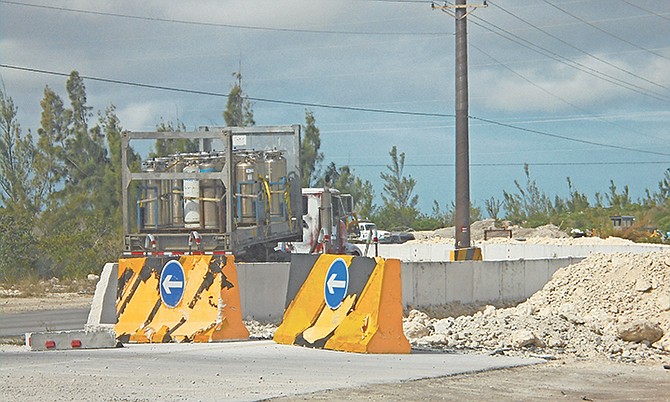 By DENISE MAYCOCK
Tribune Freeport Reporter
dmaycock@tribunemedia.net
EVEN though government officials have said the Fishing Hole Road project could be completed by early January, the road bridge is nowhere close to being finished.
Work appears to be moving at a snail's pace at the causeway that has been under construction since early 2016, and poses unsafe conditions for motorists.
The project started under the former Christie government, which signed a $6.5 million contract in December 2015, and was to be completed in 61 weeks. However, the project did not meet the completion deadline before the May 2017 general election.
After taking office, Kwasi Thompson, minister of state for Grand Bahama in the newly elected Minnis administration, led a team to the site in August 2017 to get an update from the contractor, All Bahamas Construction Company.
Project Manager Wolfgang Geiger had revealed that the company had not received any money from the government in the past 12 months for the work it had done.
The Tribune visited the area around 1pm on Wednesday. Several sections of the bridge have been installed, but most of the heavy equipment tractors were parked in a holding area and there were not many workers on the site.
The area is heavily travelled and conditions are unsafe. Large trucks and private vehicles are travelling on the west bound lane, while the east bound lane remains under construction.
Cars continue to travel at a high rate of speed in the area.
In August, Mr Thompson said the government was satisfied with the progress made. He said government was working with the contractor to ensure that the project was completed in the "shortest period of time".


Flooding has been a constant issue at Fishing Hole Road for many years. The road floods during hurricanes, and two persons have lost their lives over the years attempting to cross it.

In addition to building a bridge, a boat ramp and a new cultural village with booths have been constructed to accommodate fishermen and other vendors.

Mr Thompson has expressed concerns about vehicles travelling at high speeds in the area and previously urged motorists to drive with caution.
Iram Lewis, Parliamentary Secretary in the Ministry of Works, who also accompanied Mr Thompson to the site in August said that they are satisfied that all the technical requirements were met and were being carried out effectively.
The project cost has increased to $7m. The Tribune attempted to contact Parliamentary Secretary in the Ministry of Works, but was told that he was in the House of Assembly in Nassau.