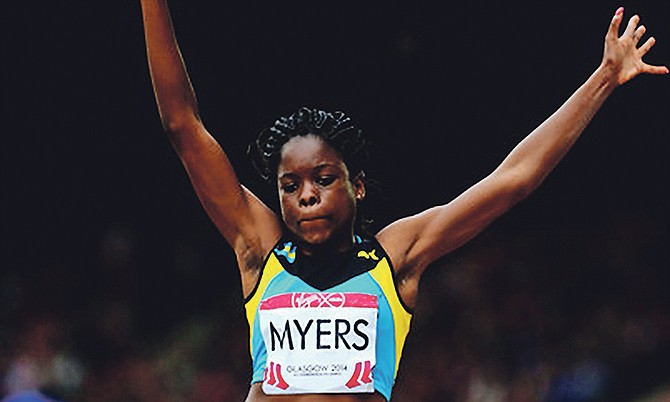 By BRENT STUBBS
Senior Sports Reporter
bstubbs@tribunemedia.net
While Tamara Myers got another Bahamian national record, Devynne Charlton and Pedrya Seymour, the country's two premier female hurdlers, turned in almost identical times for second in two separate races and twin brothers Latario and Lathone Collie made their return to competition in the men's triple jump at the Tyson Invitational in Fayetteville, Arkansas, on Friday and Saturday.
Elsewhere in other meets around the United States, Keianna Albury, Leevan 'Superman' Sands, Kaze Poitier and Kirk Lewis were among the top performers.
Andros native Myers, fresh off her breakout 2017 season that saw her eclipse the Bahamas women's national outdoor triple jump record (14.03 metres or 46-feet, 0 1/2-inches at the Penn Relays) on her way to securing a trip to compete in the IAAF World Championships in London, England, clinched the women's triple jump title with her leap of 13.60m or 44-7 1/2.
In the process, Myers added the Bahamas national indoor record to her ledger as she erased the previous mark of 13.54m (44-5 1/4) that was set by Grand Bahamian Daphne Saunders on January 29, 1994 in Baton Rouge, Louisiana. Myers' nearest rival at the meet was Alex Madlock, a freshman at Baylor with 12.97m (42-6 3/4).
"It feels good. My mind wasn't on breaking the record. I wasn't even aware of what the record was going into this meet," Myers told The Tribune.
"I was just trying to get a meet under my belt, but after I found out that I did break it, it was pretty exciting seeing that it wasn't broken for a long time."
Myers, 24, said she had anticipated some of the collegiate athletes she competed against when she attended the University of Arkansas (up until her graduation in 2015) would have participated, but they were not so she didn't have that much competition.
And she also surpassed the B qualifying standard of 13.45m (47-5) for the Commonwealth Games, scheduled for April 4-15. She's just waiting to see whether or not the Bahamas Olympic Committee will select her to the team heading to the Gold Coast.
In the meantime, she's hoping that she can get into the Gibson Relay in Jamaica.
"I'm working now, so planning meets are kind of difficult, but as I see them, I will try to register for them," said Myers, who thanked her bosses at the Ministry of Agriculture and Marine Science, where she works in Accounts for allowing her to be able to travel to compete. "I really want to go to the Commonwealth Games and see what I can do. Having qualified, I just hope that I can continue to produce the quality marks so that the BOC will select me to go. With this not being a major year for competition, I just want to have fun. But I want to Commonwealth and hopefully make the top eight and get on the podium. It;s just a bit difficult working and training, but I'm getting it done, thanks to my bosses at BAMSA."
Another victory for the Bahamas came from Janae Ambrose, a junior at Auburn, who ran 23.35 seconds, just ahead of Natalliah Whyte, a freshman team-mate, in 23.40.
Carmiesha Cox, a senior at Purdue, was 10th overall in the women's 200m invitational in 23.46. Kortnei Johnson, a junior at Louisiana State University, was the winner in 23.14.
Meanwhile, Charlton, the 60 metres hurdles national indoor record holder with a time of 7.93, clocked 8.07 to finish second in the women's 60m hurdles Olympic Development race as she trailed Tiffani McReynolds, the winner in 8.05. Charlton, who only have an off season of eligibility left for the Purdue Boilermakers, competed unattached as she posted the fastest qualifying time of 8.24.
Seymour, competing in her senior year as a new member of Texas, also won her heat in 8.13 to qualify for the final of the women's collegiate 60m hurdles with the fastest time. However, in the final, Seymour had to settle for second with 8.09 behind Louisiana's sophomore Tonea Marshall, the winner in 8.04. Seymour is the national outdoor 100m record holder at 12.64.
The Collie twins, inactive for more than a year, opened their season as they competed together in the men's triple jump invitational. Latario had the best showing with a third place with 16.23m (53-3), which was just shy of the Commonwealth Games' B standard of 16.25m (53-3 3/4), while Lathone had to settle for 11th with 15.60m (53-3).
Also at the meet, Ryan Ingraham, competing unattached, was fourth in the men's high jump invitational with a clearance of 2.12 metre or 6-feet, 11 1/2-inches. Vernon Turner, a freshman at Oklahoma, won the event with 2.33m (7-7 3/4).
Grand Bahamian Holland Martin, in his freshman year for South Plains, had a best leap of 7.29m (23-11) for seventh place overall in the men's long jump final. Corion Knight, a senior at Florida State, emerged as the winner with his leap of 8.02m (26-3 3/4).
Shaquania Dorsett, another Grand Bahamian in her junior year at Florida State, finished 27th overall in the women's 400m in 56.60. Purdue's freshman Samara Miller was the winner in 53.59.
And Xavier Coakley, a junior at Auburn, was disqualified in the men's 200m.
Albury picked up a victory
At the SPIRE Open in Geneva, Ohio, Eleuthera native Keianna Albury, competing for Penn State, won her heat of the women's 200m in 24.05 that was listed as the fastest time overall. Her team-mate Kiara Lester was second in 24.10.
Albury, however, got second in the 60m final in 7.47 behind Shyvonne Roxborough of Guelph in 7.42. In the preliminaries, Albury won her heat in 7.52 for the second fastest time as Roxborough had the fastest time of 7.52.
Sands clinched third
Leevan 'Superman' Sands, the national indoor and outdoor record holder, was the lone Bahamian competing at the New Balance Indoor Grand Prix at the Reggie Lewis Center on the campus of Roxbury Community College in Boston. He had to settle for third place in the men's triple jump with a leap of 15.78m (51-9 1/4) on his second attempt. In his season opener, Sands cleared 13.94m (45-9) on his first attempt; 15.69m (51-5 3/4) on his third; fouled the fourth; passed the fifth and closed out the competition with 15.49m (50-10) on his sixth and final jump.
American Chris Carter won the competition with 16.67m (54-8 1/4) on both his third and fourth attempts and Troy Doris from Guyana was second with 16.49m (54-1 1/4) on his third attempt for second place.
Poitier in action
At the 2018 Husky Classic at the Dempsey Indoor in Seattle. Washington, Kaze Poitier sped to victory in his heat of the men's 400m in 49.95, but that was only good enough for 21st overall. Mike Berry, unattached, was the winner in 46.49. Poitier was also fourth in his heat of the 200m in 22.83 for 24th place. His Academy of Arts' team-mate Mobolade Ajomale was the winner in 21.37.
Poitier also ran the third leg with Ajomale on anchor as Academy of Arts won the men's 4 x 400m relay in 3:14.03. Michael Houston and Christian Carter ran the first two legs respectively.
Lewis eighth place
At the 2018 Clemson Tiger Paw at the Clemson University Indoor Complex, Clemson's senior Kirk Lewis slipped to eighth place in 7.80 in the final of the men's 60m hurdles after he qualified in the preliminaries in that same position in 7.81.
Also at the meet, Grand Bahamian Teray Smith, representing the Bahamas, was eighth in the men's 200m in 21.13 with Omar McLeon, representing Nike, taking the title in 20.76.
Ojay Ferguson, competing for Oxy Athletics, was 11th overall in the men's 400m in 47.06. Michael Norman, a sophomore at the University of South Carolina, was the winner of the event in 45.00.
And Katrina Seymour, representing the Bahamas, was 23rd in the women's 400m in 55.57. Kendall Ellis, a senior at USC, won the event in 51.57.