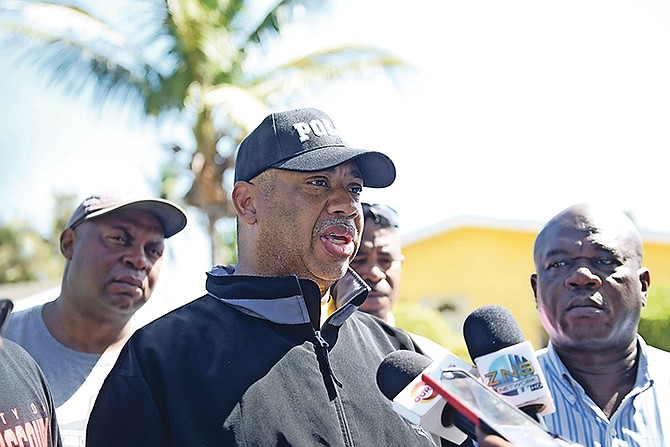 By RICARDO WELLS
Tribune Staff Reporter
rwells@tribunemedia.net
POLICE shot and killed another armed assailant near a school playground yesterday, marking the 11th fatal police-involved shooting since November 2017.
There have been six fatal police shootings so far this year.
According to Assistant Commissioner of Police Clayton Fernander, the suspect was sought by police in connection with several recent shootings, including an exchange with officers near Peach Street earlier this month.
ACP Fernander said: "What we have here is, about a week and a half ago, officers responded after receiving calls that an individual was on Homestead Street firing shots. Officers responded and gathered some information."
He added: "An individual also made a complaint that some unknown male fired a shot at him. Based on that information officers went to Peach Street which is just off Mackey Street where they found the individual who was responsible that time for the shooting.
"The individual, the suspect, was able to elude the police and he dropped the firearm."
"The weapon was recovered. The officers, from then to now, were on the look-out to try and find this suspect."
ACP Fernander said police, acting on general information, went to the Wulff Road area around 6.30am, in the vicinity of Columbus Primary School, where they met the deceased.
"He appeared to have been trying to dodge the police . . . he turned and attacked the officers with a knife," he told reporters. 
Subsequently, he said officers in fear for their lives opened fire and fatally shot the suspect.
ACP Fernander also confirmed that the deceased was known by police and may have been on bail for some other offence. A knife was recovered from the scene yesterday, he said. 
Coroner Jeanine Weech-Gomez will investigate the matter.
The incident came less than 24 hours after police shot and killed a man suspected of perpetrating a drug deal at Cedar Way, off Carmichael Road.
Officers said the deceased, upon noticing them, opened fire and was fatally shot in return. Upon examination of the suspect's vehicle, police said they recovered a weapon and a kilo of suspected cocaine.
Last month, a man who residents say was blind, was shot and killed by police, prompting an angry confrontation between residents and police in the Plantol Street and East Street area where the shooting occurred.
Police said they responded to reports of gunshots in the area, and when they arrived they saw two men on a motorbike – one of them aimed a firearm in the direction of officers.
However, police could not say whether the man who was shot and killed was the one who brandished the weapon. There was no report that a weapon was recovered from the scene.