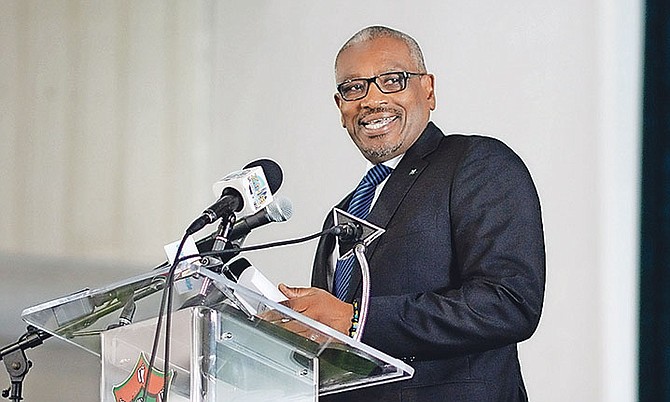 By KHRISNA RUSSELL
Deputy Chief Reporter
krussell@tribunemedia.net
THE low-cost lots to be made available as part of the government's plan to boost access to affordable housing for Bahamians will be offered at a cost of less than $30,000, Prime Minister Dr Hubert Minnis revealed yesterday.
The Minnis administration also intends to make the plots of land available in May or June, after the government's new fiscal budget presentation.
While he still did not reveal where the lots will be located, Dr Minnis insisted this plan was certain to deliver big savings to potential homeowners.
Last month during a national address, Dr Minnis said the lots would be equipped with the necessary utilities, but buyers are expected to be responsible for building their own homes.
"There are many Bahamians who want to own homes," Dr Minnis told reporters yesterday. "Unfortunately, the average home today may cost anywhere from $180,000 and up. That is very cost prohibitive to the average Bahamian and therefore we are introducing a programme and therefore we'll have lots available right after the new budget (in) May (or) June.
"Those lots will be sold with all the infrastructure amenities attached to it and be sold at very, very low prices. So, the only thing that I can say to give you a ball park figure (is) that they will be less than $30,000. Now the exact cost I will not reveal because you know the press tags you to that and so if you can purchase a lot at that price and construct your home duty-free and you remove all of the second payment and the possible corruption, etc, you will be able to construct your home at a very low price."
He continued: "Because remember the average lot today may cost $100,000 or more so that's automatically a $70,000 savings. When you are constructing your home you paying duty, you talking about 30 to 50 per cent duty on various things. If that's at least another $60,000 to $80,000 savings, you're talking about $70,000 savings another $60,000 to $80,000 savings you're talking about the average Bahamian being allowed to save at least a minimum of $120,000 when you remove all those extra taxes.
"I think it's a great opportunity for Bahamians to own their own homes," he said.
At the same time, Dr Minnis said this was a chance for development to take place on the Family Islands where economic activity is slow moving.
"It would allow Bahamians in the Family Islands to buy properties for bed and breakfast facilities and again at minimal cost and using the same concept they would now own hotels in the Family Islands and the eco-hotels is where we are going in the Family Islands. We don't want to find ourselves 15 or 20 years from today where all the second homeowners are foreign nationals and then they are leasing them out as a part of the hotel pool.
"If we don't take charge of that now, 15 or 20 years from today the Bahamian will be marginalised from Family Islands. So recognising that we want to ensure that they are a part of it now moving forward."
He made the remarks following a tour of The Pointe on Bay Street yesterday. Pointe officials have pledged to the government to upkeep an agreement to employ 70 per cent Bahamians to 30 per cent foreigners, Dr Minnis said.
When he revealed the low-cost lot plan last month, Dr Minnis said homeowners had the option to use their own architect or use pre-existing plans offered by the government.
They will also have two years to build homes at duty free concession rates.
It has been a long-standing policy of the government to offer low-cost homes to Bahamians, with the Department of Housing facilitating the construction of affordable housing to low and middle-income Bahamians.
Last year, Minister of Environment and Housing Romauld Ferreira announced the government planned to spend $2 million to complete 300 homes in the Carmichael Village Subdivision during the fiscal year.