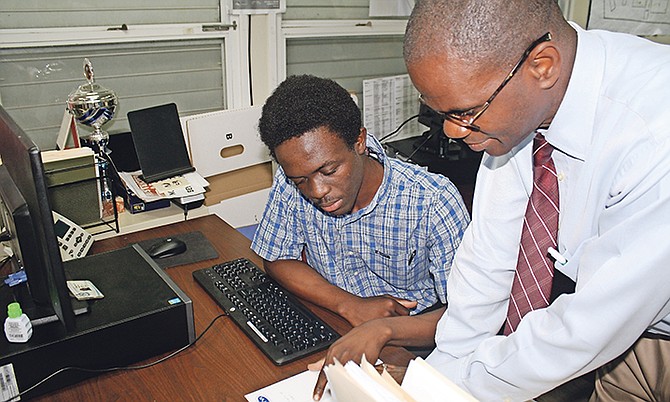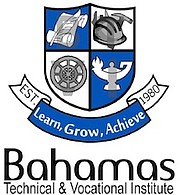 For the tender age of 18, Tyric Mcphee is a mature young man. His mother never complained about paying the tuition and fees to attend the Bahamas Technical and Vocational Institute (BTVI), but Tyric "knew it was a struggle".
After his first semester at BTVI in fall 2016, the young man who is studying towards an Associate of Applied Science degree in Office Administration, applied for the work study programme and was successful. It was the beginning of relieving his mother of a financial burden.
"When registration came, my mom would pay half, but as a work study student, I easily can pay the balance of the payment plan. My mom was pretty shocked and relieved. She was probably expecting me to rely on her. The money helps with books, supplies and my balance. I even have some money left over at times," said a grateful Tyric.
Work study students work for a maximum of 20 hours per week and are given a weekly stipend. The programme is designed for current students who maintain a minimum grade point average (GPA) of 2.75 and are not currently receiving scholarship assistance from another source.
For Tyric, the experience over the past year has benefitted him beyond financial aid.
"It's been a good experience. It helps financially, but the knowledge gained in the Technical Services department has been beneficial, especially as I want to pursue Information Technology after Office Administration," he said.
Applying for financial assistance
Financial assistance is available to students via BTVI's Financial Aid office and private scholarship applications can be collected from the Fund Development office. Also available are Ministry of Education (MOE) applications that can be obtained and submitted to its Scholarship and Loans division.
Private scholarships require a completed application and supporting documents, proof of financial need and a statement of goals and aspirations. Donors ultimately decide who is awarded, based on their established criteria.
Financial Aid applicants must meet similar criteria and apply before March 31 for the fall and October 31 for the spring semesters. Applicants must:
• Be Bahamian citizens
• Enrolled in one of the Associate of Applied Science degree programs
• Be a current or transfer student with a minimum 2.75 GPA
• Exceptions exist for Family Island students enrolled in certificate programs. Selection is done by a scholarship panel.
In what areas are financial aid and scholarships granted?
Students may pursue any trade offered at BTVI while on financial aid or MOE scholarship. Some private scholarship donors specify trade areas based on:
• Area of interest
• An organisation's needs, mission or goals
• Existing skills gap: One example is a company that realised it had been heavily dependent on importing skilled labourers from another country, so it sponsored a specialised training programme for employees to attend BTVI.
What is the range of scholarship funding I can receive?
• BTVI private scholarship donors have historically invested from $200 to $1,200 to assist with purchasing books, equipment and uniforms. Tuition covered has also varied from partial $500 to $1,500.
• MOE scholarship amounts vary based on the programme.
Do scholarships and/or financial aid include equipment, books and/or uniforms?
• BTVI Financial Aid - No.
• MOE - Yes.
• Private scholarship awards vary, ranging from full scholarships (covering all of the above and tuition) to tuition-only.
Do recipients have to repay donors by working for their organisations for a period of time?
Recipients are not bonded to donors.
During these economically challenging times, there is clearly hope for students pursuing technical education. BTVI's goal is to offer 'Affordable Excellence' via a variety of options from traditional financial aid to scholarships.
"Gain An Edge" is a weekly collaboration of the Lyford Cay Foundations, the Bahamas Technical and Vocational Institute and University of The Bahamas aimed at promoting a national dialogue on higher education. To share your thoughts, email gainanedge@tribunemedia.net.