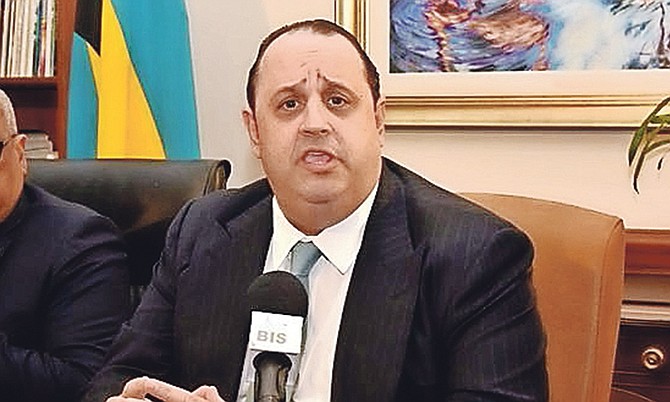 By RASHAD ROLLE
Tribune Staff Reporter
rrolle@tribunemedia.net
GOVERNMENT officials yesterday were tightlipped about who the beneficial owners of Oban Energies are, though some quietly described Peter Krieger, the public face of the project so far, as a small player in the grander scheme.
Two top officials in the Minnis administration, speaking anonymously to The Tribune, said the main people behind the project "would pass any test anyone could put out there", adding this explains why officials are not troubled by recent revelations about Mr Krieger.
For her part, Candia Ferguson, director of investments at the Bahamas Investment Authority (BIA), told The Tribune she is satisfied that Mr Krieger, the non-executive chairman of Oban Energies whose controversial past has made headlines this week, is just an ambassador for the company.
Ms Ferguson said BIA performs due diligence checks on beneficial owners of companies that seek to invest in this country, noting Mr Krieger has not been disclosed as a beneficial owner.
What this means about whether background checks were performed on people like Mr Krieger and others publicly identified as executives of the company so far was unclear yesterday.
Asked who Oban Energies' beneficial owners are, Ms Ferguson said the heads of agreement, which was expected to be tabled in the House of Assembly on Wednesday but is now slated to be tabled next week, will address this.
Asked if she believes too much attention is being focused on Mr Krieger and his role in the project, she did not answer directly but suggested there is much more to the Oban Energies project than has been revealed so far, saying: "I think it's premature to speak about things that are unseen."
Kwasi Thompson, minister of state for Grand Bahama, also declined yesterday to reveal the identities of Oban Energies' owners.
He was asked to do so by former State Minister of Finance Zhivargo Laing on his 96.9 FM talk show.
Mr Laing expressed confusion about the ownership structure of the company and asked Mr Thompson to clarify this, but the senator said such information should best come from the company itself.
In the absence of information on the owners, attention has focused on Mr Krieger, who has faced a Securities Exchange Commission (SEC) lawsuit alleging misappropriation of millions in investor funds.
Mr Krieger also pleaded guilty to first-degree felony of organised fraud in 2006. He has been barred in the US from acting as a broker or investment adviser or otherwise associating with firms that sell securities or provide investment advice to the public.
Other people so far identified as executives of the company have also faced scrutiny in the face of revelations that their qualifications may have been exaggerated or misstated.
Furthermore, Progressive Liberal Party (PLP) leader Philip "Brave" Davis yesterday disputed claims of Prime Minister Dr Hubert Minnis that the former Christie administration knew the history of Mr Krieger and others associated with the project.
Dr Minnis, seeking to reassure people due diligence was conducted, had insisted Wednesday that former administrations were aware of the concerning facts that have emerged since Monday's signing of the heads of agreement.
However, Mr Davis said: "We did not enter into a heads of agreement with them. My recollection is we issued a letter indicating our approval of the project subject to compliance with requirements of various departments of government, the Ministry of Works, the Ministry of Finance, proper vetting, etc. Once those agencies provided indication the project could proceed, which would have included due diligence on their part, then a heads of agreement would have been entered into. Very often, that agreement would contain conditions or granting of concessions that would have to be considered by these various agencies.
"In regard to determining the fitness of individuals, that would have come along later. We would not have gotten that far to form a view on those matters. I doubt the government would've been aware of that, neither the advisors nor technocrats who would advise the government on the way forward. From where I sat and my appreciation of the way things were done, I would be very surprised that anyone in government would be aware of these matters you are now speaking of," the former deputy prime minister said.
Meanwhile yesterday, Oban Energies, their engineers and environmental teams, including local and international experts, met with BEST Commission and members of the local government committee for East Grand Bahama.
The meeting at the Office of the Prime Minister in Grand Bahama was set to conduct preliminary discussions regarding the project, according to Bahamas Information Services.
"These meetings began the important environmental impact assessment stage. BEST Commission detailed the process that will be followed. BEST Commission also visited the proposed site to begin their preliminary assessments.
"This meeting constitutes the first in a series to take place between Oban Energies, BEST Commission and local government authorities," BIS said.