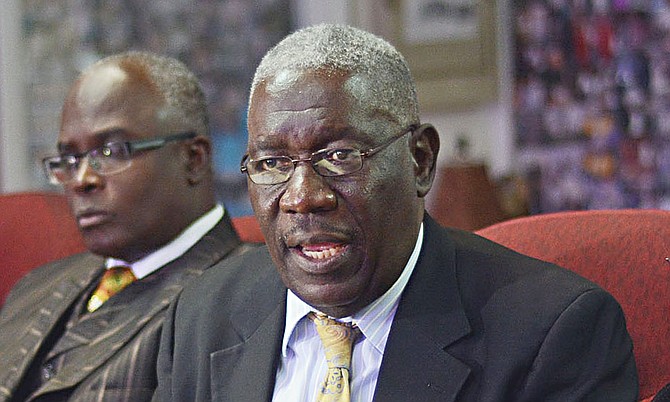 By AVA TURNQUEST
Tribune Chief Reporter
aturnquest@tribunemedia.net
IMMIGRATION officers have been accused of soliciting thousands of dollars in bribes from migrants, according to allegations in a court filed affidavit which were echoed by a prominent religious leader yesterday.
In a sermon at Berean Evangelical Baptist Church, Bishop Simeon Hall advised members of the Haitian community against feeding on "the corruption sometimes found in the Department of Immigration."
In written opening remarks sent to the media, Bishop Hall made the claim that officials are paid between $3,000 and $4,000.
The claim echoes the affidavit of Kediesha Bent-John, a Jamaican who was arrested along with her 11-year-old child and had been detained since December 8, 2017, at an immigration safe house for women and child migrants.
She is married to a Bahamian man and had been actively trying to submit an application for a spousal permit, according to her affidavit. Mrs Bent-John and her daughter were released last month after filing a habeas corpus application contesting the legality of her detention. Supreme Court Justice Gregory Hilton is expected to deliver his ruling on the matter later this month.
In her affidavit filed last month, Mrs Bent-John alleged that while in detention at the immigration safe house on December 11 she was visited by two men who said they were asked to collect $3,000 from her to secure her and her daughter's release.
"Just after 8pm I was called upstairs and told I had a visitor," her supporting affidavit, filed on January 22 said.
"There was a private car parked outside the safe house. Two men were in the vehicle and I could see them through the door as they left it open while I was waiting. One of the men came inside and asked for me. I have never see him before," the affidavit continued.
Mrs Bent-John alleges she was asked by one of the men to call her husband for the money, but did not know whether he was an immigration officer as he was dressed in plain clothes. She said the man was irritable and aggressive in his demand for the sum.
"However, he must be familiar to them for them to allow him to come to see me when my husband could not visit us there," the affidavit continued.
"I got really nervous as I couldn't understand what was happening. I started to feel like we were kidnapped. I tried to keep calm so they would not sense how fearful I was. I was concerned that they would try to harm my husband."
Mrs Bent-John's application is among some 15 separate cases in which the government has been asked to prove the lawfulness of the applicants' arrest and further detention at the Carmichael Road Detention Centre.
Of those cases, several applicants have been unconditionally released; however, the Crown has objected to costs being awarded due to its position that all the arrests and subsequent detention were lawful.
The Immigration Department has come under heavy scrutiny following the landmark case of Bahamas-born deportee Jean Rony Jean-Charles, which officials note has highlighted the need for widespread reforms.
When contacted by The Tribune yesterday, Bishop Hall said: "I work with several Haitian churches, some pastors I have helped them to get regularised and on the other hand I have some Haitians who come and tell me how they paid officers up to $3,000 and they were ripped off."
He continued: "I try for them to give me a name but they're afraid, because they know if they give me a name I will report it. There are corrupt officers in immigration who are exploiting their office and literally milking members of the Haitian community and that is wrong.
"It's a two-pronged approach," he added, "I say to them don't break the laws, if you do you will face the penalty at the same time, we are saying immigration should act justly and fairly and humanely with all persons as we are all made in the image of God."
• Mrs Bent-John's affidavit also detailed alleged conditions at the immigration safe house. See Tuesday's Tribune for her account of her detention experience.