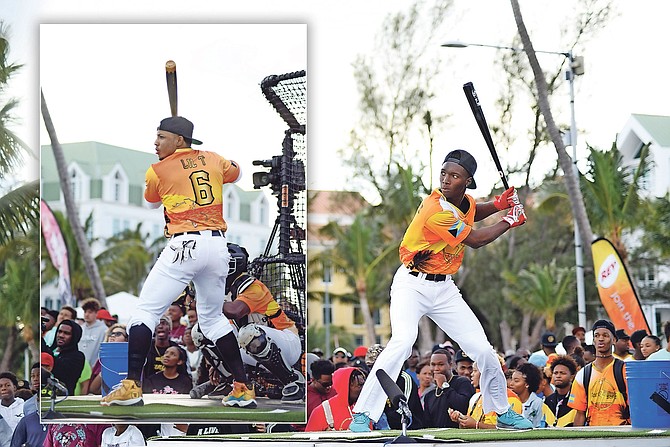 THE inaugural "Don't Blink Home Run Derby In Paradise" was a revolutionary idea that produced a series of highlights and showcased the Bahamas' elite baseball talent.
Hundreds of supporters turned out to the event Saturday afternoon at the Montagu Bay foreshore to witness a power-hitting display from Bahamian minor leaguers and several visiting international prospects.
One of those visiting players, Bo Bichette of the Toronto Blue Jays organisation, claimed the title of the first ever "Don't Blink Home Run King."
Bichette hit nine home runs in the final round to defeat Lucius Fox Jr (Tampa Bay Rays) and Nick Gordon (Minnesota Twins). The 19-year-old shortstop, a second round selection by the Blue Jays in the 2016 MLB draft and currently a member of the Dunedin Blue Jays in Single A-Advanced, just completed a season where he was named the Midwest League MVP and the his organisation's Minor League Hitter of the Year.
Bichette is the youngest son of former MLB All-Star, Dante Bichette, who was on hand to assist with the event and pitch to Bo and other players.
The project was the brainchild of Todd Isaacs Jr (Cleveland Indians) and Fox, who wanted to give the country's litany of local pro baseball prospects a rare opportunity to compete in front of a home crowd.
Other local competitors included Champ Stuart (New York Mets), Anfernee Seymour (Atlanta Braves), Chavez Young (Toronto Blue Jays), Trent Deveaux (Los Angeles Angels), D'Shawn Knowles (Los Angeles Angels), Kristian Robinson (Arizona Diamondbacks), Jazz Chisholm (Arizona Diamondbacks), Dominic Collie (Arizona Diamondbacks), Keithron Moss (Texas Rangers), Reshard Munroe (Cincinnati Reds).
Proceeds from the event will benefit the Cancer Society of the Bahamas and the development of youth baseball baseball in the Bahamas.