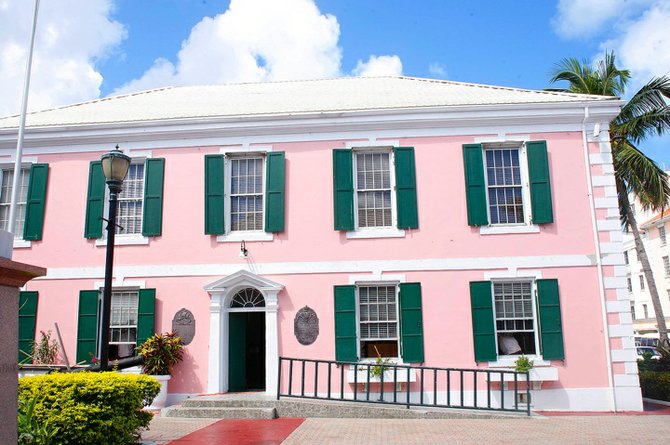 By NICO SCAVELLA
Tribune Staff Reporter
nscavella@tribunemedia.net
THE power of magistrates to grant bail in all but the most serious of offences should be returned forthwith, the country's top judge said yesterday, as he urged Parliament to pay more than "lip service" to the issue.
Acting Chief Justice Stephen Isaacs, during his address to mark the opening of the 2018 legal year, said stripping magistrates of the authority to grant bail for certain offences is "counter-productive" and has created nothing but "confusion" for magistrates and senior judges.
He said instead of being a "crime fighting tool", the 2016 amendment to the Bail Act under the former administration has the "potential of creating resentment toward the authorities by those young persons caught up in this conveyor belt process."
The 2016 amendment to the Bail Act made charges of intentional libel, assault, stealing and a number of other previously bailable offences non-bailable in Magistrate's Court. It resulted in an increase in the number of people being remanded to the Department of Correctional Services and having to apply for a bond in the Supreme Court.
The amendment did not return the power of magistrates to grant bail for the offences of drug possession with intent to supply, certain firearms matters, rape, housebreaking, attempted murder and threats of death.
Yesterday, Acting Chief Justice Isaacs said what now typically happens in the Magistrate's Court is defendants charged with minor crimes, typically "young offenders", ultimately find themselves remanded to prison.
He said it is then left up to the defendant, assuming "he or she has the wherewithal", to hire a lawyer to apply to the Supreme Court for a bail hearing. If a defendant cannot afford a lawyer, however, he said the process of applying personally is "invariably extended" over a much longer period.
He said the 2016 amendment has not only increased the Supreme Court's workload and "often throws the bail list out of sync", it "strands young persons in prison for minor offences prior to trial" when previously a magistrate would routinely grant bail, sometimes with additional conditions.
"Returning the authority to magistrates to grant bail in all but the most serious offences, such as murder, manslaughter and armed robbery, ought to be given more than lip service, which is all that it has received to date," he said. "The statutory authority of magistrates to grant bail for minor offences ought to be returned forthwith."
He added: "This is a serious issue and I can only fathom that the aim of the executive was to pitch in on the fight against crime, which is to be commended. There has been, however, some perverse results. I use as an example, the fact that a magistrate cannot grant bail for these minor offences, but the police can."
Acting Chief Justice Isaacs also touched on the "double jeopardy" for people who are released on bail at the Supreme Court with conditions.
He said apart from signing a bond along with one or two sureties, a person granted bail is often subject to other conditions such as reporting to a police station nearest their home on specific days, usually before 6pm, wearing an electronic monitoring device or being subject to a curfew.
The "double jeopardy" occurs upon the "exposure" of an accused person to have bail revoked subsequent to the Crown's application because that person breached their bail conditions, usually for failing to report to a police station or less frequently, failing to appear for trial.
He said the issue has become further "complicated" by legislation that empowers magistrates to imprison people for breach of their respective bail conditions, notwithstanding the bail having been granted by the Supreme Court.
Additionally, he said it is a "matter of record" that accused people are being sent to prison by magistrates for one year as punishment for what he said is a "standalone offence" in breach of bail conditions. And that, he said, takes place long before the substantive charge is even heard, "on which the accused person may very well be acquitted".
However, the acting chief justice said that an accused person would have already served time for a matter that is "ancillary" to the original offence.
"This legislation may be another attempt to fight crime but the result has created confusion for both magistrates and judges," he said. "Bearing in mind the principle that legislation is presumed to be constitutional, I would not go further than to say that this issue ought to be revisited."
Last year, his predecessor and now Court of Appeal President Sir Hartman Longley said the judicial system can be "significantly improved" if the jurisdiction of stipendiary and circuit magistrates in many cases of bail is restored.
At the time, Sir Hartman said "precious time" is wasted at both levels in "matters than can and perhaps ought to be dealt with at the summary level."